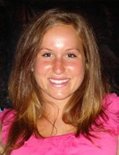 The Carleton University team is back home in the wake of NASA's Great Moonbuggy Race in Huntsville, Ala., April 3-4. They're heading into the home stretch on their spring term at Carleton, as are most colleges and universities, but our resident blogger and 2009 Carleton moonbuggy co-driver Lindsay Los took time out to send us some final thoughts…
Well, after a year of buildup, the 2009 Great Moonbuggy Race is finally over. After an eventful and dramatic two days of racing, it was time to pack up the buggy and team and head back home.
Not before handing out some Canadian souvenirs though! On Sunday morning Raakesh decided to sacrifice his case of Molson Canadian beer to give as gifts to some of the other international teams at the competition. We dropped off some bottles for the German and Indian teams and snapped some pictures with them before starting the long trip home. 
Twenty-one hours later, we finally pulled into Carleton at 9 a.m. on Monday morning, April 6.  I didn't think it would be possible to experience such an array of weather in such a small time period, but I guess that's what happens when you drive across half a continent!  On the way down to Alabama we turned on the radio to hear tornado warnings and half an hour later experienced torrential rains. Then we had beautiful weather during the races — only to return home to Ottawa with fresh snow and wintery weather!
Once we were home, it was back to studying and regular school activities — like watching ourselves on Discovery Channel's "The Daily Planet!" It was fun to see the 10-minute compilation of three days of filming, though we all had a feeling there would be a lot of footage of the "finger incident" — which turned out to be correct.
Re: the "finger incident" — Lindsay's fellow driver Chris Polowick suffered the most noteworthy injury of this year's GMBR. When his chain slipped during the first day of racing, Chris put a hand down to try to get it back into place — and inadvertently put a finger into his sprocket. Even with his glove on, he was cut deeply. But after a quick visit to the ER, some stitches — and, we're guessing, a little good-natured ribbing from his teammates and competitors — Chris was right back in the buggy with Lindsay on Day 2, battling it out. What a trooper!
Also on the agenda, now that this year's moonbuggy race was over, was figuring out who would take over for next year. Because the moonbuggy team is a project within the Carleton SEDS (Saturday Engineering and Design Sessions) club, Curtis and Brian decided to include the moonbuggy leader positions with the CuSEDS annual election.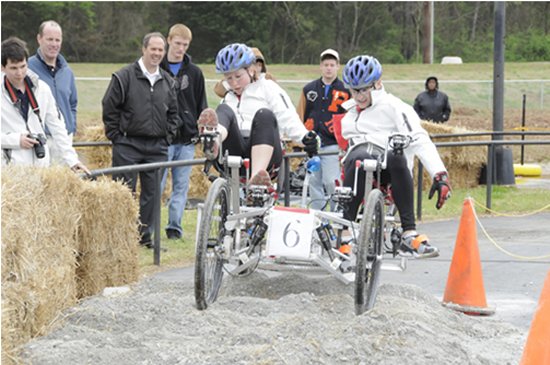 Lindsay and Chris push hard on Day 1, but Chris's injury and a harrowing
2009 course knocked last year's third-place victors down to 17th place.
Nonetheless, we know Carleton will be back in 2010 — and they'll be
back to win! (Credit: NASA/MSFC/D. Stoffer)
On April 7, we had a big electoral meeting of the CuSEDS group and the new execs were elected for next year. It turned out all the executive positions were filled by this year's moonbuggy team members — good job, team! The actual moonbuggy project positions, however, are still in the process of being decided. Because leading the moonbuggy team is such a big job, we agreed that it would be better for Curtis and Brian to interview the candidates one on one. So I guess you'll have to wait til next year to find out!
For more about the CUSEDS program: http://cuseds.engsoc.org/
We'll be glad to have you back in 2010, Carleton racers! And Chris — fingers and toes inside the moonbuggy at all times… =)