Saint Patrick's Day in Chicago WAS a lucky one, and it proved to be "our kind of town." Thanks to those of you who wished us well!Not only did we capture the interest of the Chicago Tribune and NBC affiliate WMAQ, we also talked Moonbuggy with Chicago's own WGN.
We visited East Chicago Central High School in East Chicago, Indiana. We arrived around 9 a.m. and couldn't find a parking place.  Mike was behind the wheel — again — while Lori and I were busy scoping out the visitor's parking lot to see if someone was going to move their car. Senior staff personnel, moonbuggy team members and advisors from Purdue University Calumet were also meeting us there, and we were anxious to get inside to greet them. 
Finally, someone came out to move their car. Lori and I decided to take ownership of the space and save it while Mike circled the parking lot to get to the side where we were standing — along with a truck that was hoping to get the same space. Lori, in a very polite and Southern way, said, "I'm sorry, we're visiting the school from NASA and we really need to park since they are expecting us right now." The young man driving the truck said okay and sped off, then I exclaimed, "Oh my goodness…there's a moonbuggy on the back of that truck!"
Needless to say we had to smooth things over when we met face-to-face with those guys from Purdue University Calumet! They're  racing for the 7th year and were gracious enough to bring their buggy for the TV shoot. It was really refreshing to learn that the Purdue Calumet students have been helping the East Chicago team by mentoring them and even giving them a moonbuggy frame they had used last year. The classroom was quite modern. Students were using laptops to program robotic equipment to perform simple tasks. Mike even commented his high school classroom was never that high tech. He also explained to Lori and me what they were doing, but he might as well have been speaking a different language — I said that's why you're an engineer and that's why we do what we do!
The first reporter on the scene was Marcus LeShock from WGN-TV. And it just proves that a moonbuggy brings out the kid in all of us — as Marcus couldn't wait to climb on board…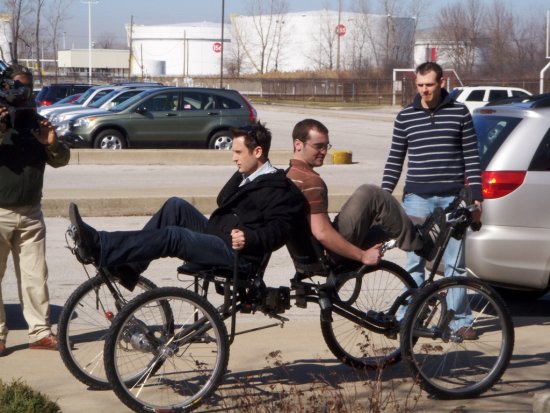 …but first he interviewed Mike and then the East Chicago advisor Deandre Hudson. They both did well, but he needed to get some perspective from the students about the competition. Funny thing though, you just never know what kids are going to say. He asked one of the female students how psyched she was to go down to Huntsville for the race and she said, "Well, um, that's like around prom time, so I don't know if I'm going to make it." We laughed about that all day.
So then we took a walk outside where Purdue Calumet's team put Marcus in the driver's seat of their buggy. As he rounded the parking lot, he said, "This rides like a Cadillac!" That's what he thinks — the simulated lunar craters on the racecourse aren't as smooth as a parking lot! We finally got Marcus off the buggy and on his way, just in time for WMAQ to arrive. They interviewed the students and Mike and all went very well.
Once it was a wrap, we decided to take in some of the Chicago attractions. It was Mike's first time to the windy city so we took him to the highest point — the top of Willis Tower (formerly known as the Sears Tower) The view is quite amazing from the tallest building in North America…although we had a small mishap on our way up. We had to go through security and Lori's purse got hung and destroyed in the conveyor belt. Let's just say she was not a happy camper.
From there it was on to 1060 West Addison, home to the historic Wrigley Field. After a few snapshots and a HUGE slice of pizza we headed back to the hotel to pack…AGAIN! So Mike got to see the Willis Tower, Wrigley Field, but no Jake and Elwood. (That's a Blues Brother's reference in case you didn't know.)
An early morning flight from Chicago's Midway Airport carried us to the next leg of our trip — Hartford, Conn. We had the hook up from one of Lori's old TV buddies at WTNH. Meteorologist Matt Scott had us on his Saturday morning show, "Good Morning Connecticut."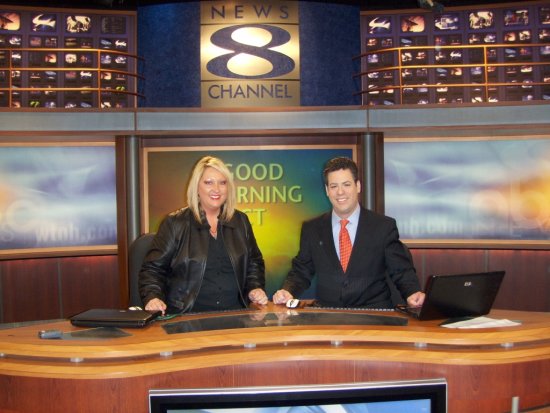 While Lori and Matt caught up on old times, Mike and I greeted the moonbuggy team from Central Connecticut State University. Students Hitesh Shah and Jeff Cloutier brought their buggy down for the show. Although it still needs a few finishing touches, it was very impressive to see. Everyone did great!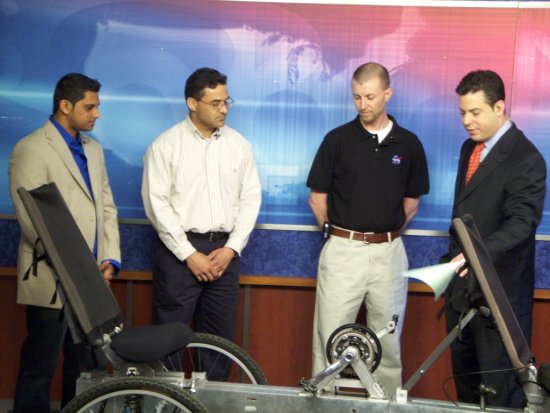 We couldn't leave Hartford without taking in a joint right next door to our hotel that came highly recommended. "Black Eyed Sally's" was the place that made us feel most at home. Known for its BBQ and "chowdah," it didn't disappoint! And what did we see on the wall, but a painting of the Dreamland BBQ logo from Tuscaloosa.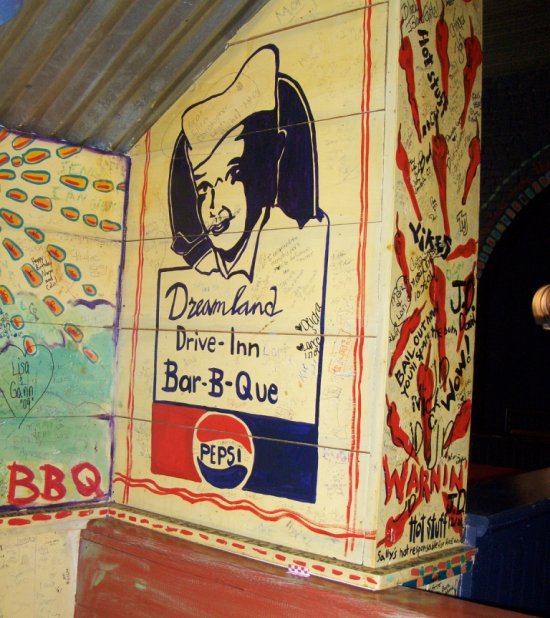 You can learn more about NASA's Great Moonbuggy Race at these links:
http://moonbuggy.msfc.nasa.gov/
https://www.nasa.gov/centers/marshall/news/moonbuggy.html
https://www.nasa.gov/moonbuggy