A big hello from the NASA.gov Web Team at NASA Headquarters. We're starting this blog to keep you informed about what's going on 'Behind the Page.' We hope to update this on a weekly basis or more frequently as needed. It'll be the place where we talk about new features in the works, respond to your e-mails and issues, and highlight intriguing things from across the NASA.gov web site. Without any further ado, let's jump right into the deep end.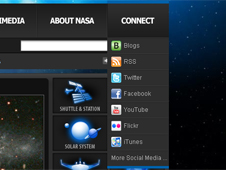 Some of you have e-mailed us, tweeted us, and inquired over the past few months suggesting that we integrate our social media into the home page more and your wishes are being answered. We've been collecting all of NASA's vast social media presences on a page that's linked in the top navigation bar under the button "Collaborate." While that page has several good resources, we've found that some folks keep missing the links to NASA's Twitter, Facebook, YouTube, etc.
As a result of this confusion, we've surveyed other leading Web sites online. Looking at these sites, we decided that maybe we weren't calling it what you all were expecting to see. We're re-labeling that button into 'Connect' instead of 'Collaborate' as that has become more of a standard label for an organization's social media section. To also help you locate the main NASA social media accounts, we've added them to a new drop-down menu that displays when you hover your mouse over the new 'Connect' button in the top navigation bar. As always, if you click on the Connect button or the new 'More Social Media…' link in the bottom of the drop-down menu, you can reach the main NASA social media page that has all of our links on it. Hopefully, this change will make our top navigation more user-friendly to everyone looking to connect with NASA on social media.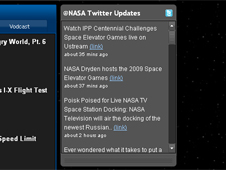 Another exciting change that's been in the works for a while is also being unveiled at the same time. In the right column of the home page we're replacing our current "Get NASA Updates" module with two new modules. The first presents updates from the @NASA Twitter feed in near-real time ; the second, smaller box allows you to sign-up for NASA updates by e-mail. We hope that displaying the Twitter feed on the home page will show a broader cross-section of material across NASA.gov, including material that won't fit into our featured spaces on the home page. Additionally, we're hoping the smaller e-mail subscription box has a better look-and-feel to fit in with everything else going on with the (admittedly, pretty busy) home page.
These changes are just the first of a series of tweaks that are coming on NASA.gov as we look at how to streamline our online presence to make it more user-friendly. We know that we have a very dedicated following of folks from every corner of cyberspace. This blog and your comments will hopefully allow us to share insight into what's in the works here at NASA and also be a forum for us to hear about what you'd like us to work on next. No promises are being made, but we'll always have an open ear.
As always, you can e-mail the NASA.gov Web Team at webcomments@hq.nasa.gov or drop us a line in the comments. We'll try to respond as time allows, but know that we read every comment and e-mail that comes through the door.