As promised in the last post, yesterday we rolled out a new NASA Television schedule page. This page shows NASA's three television channels listed much like you'd see listings in your local newspaper with blocks of time indicating which program is on which channel. We hope this small improvement makes the online program schedule easier to read.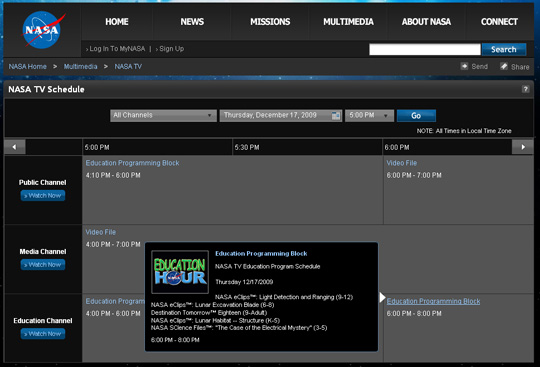 This change also combines program information into one place instead of the old model of three different schedules depending upon whether something was regularly scheduled, a live event, or a mission event. Now the schedules for all three channels are listed on one page. Additionally, when a user hovers their mouse over the program title, they see a small window open that has either a description of the program or a link for more information. This was added in response to user feedback that more information was sometimes necessary, especially on cryptically named television programs.
Listings of upcoming programs, events and features on NASA TV's Public, Education and Media channels now can be accessed easily in the NASA TV section.

Stay tuned for more changes coming soon to NASA.gov.