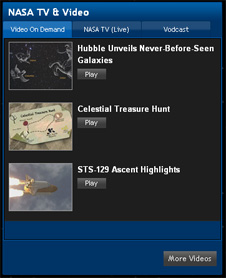 You might have noticed a condensed homepage that launched earlier today. In response to your feedback on the old 'NASA TV & Video' box, we're trying a new approach to surface different types of multimedia without burying some content in "hidden" tabs.
(Image Right: The Old "NASA TV & Video" Box)
Combining the NASA TV channels, on-demand video, interactive features and podcasts & vodcasts into a single box allowed us to shrink the page and reduce a little "clutter." As a result, we shrunk the blogs box to half its size, allowing us to showcase only the most recent blog posts.
We've also removed the polls and quizzes box from the homepage, since our stats showed only a small percentage of our users were interacting with it. We'll continue to engage users with polls and quizzes elsewhere on the site, but we want to focus the homepage on the most useful information for our visitors.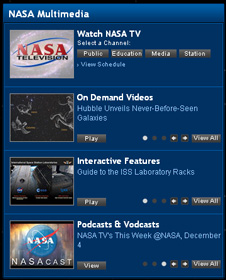 Other things that have been on our to-do list for a while include the cleaning up of links on the homepage in the right column. By combining some similar links (like NASA Directorates and Mission Support Offices), and eliminating redundant links, we were able to tighten up that right column. We hope this will help streamline items.
(Image Left: The New "NASA Multimedia" Box)
This is all part of an effort to slim down our addiction to links all over the homepage, since our audience has consistently asked us to eliminate clutter. This change has already helped us eliminate about 25 links, and we'll keep chopping it down.
There are more changes still to come. For example, before the new year, we'll being rolling out a new schedule for NASA TV that works more like the TV channel listings you've seen on the big Internet portals.