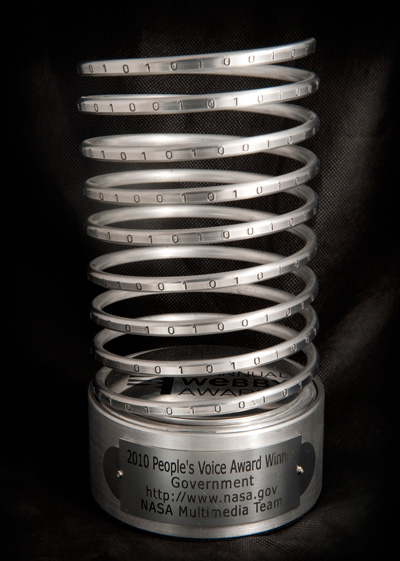 Every day, hundreds of thousands visit the NASA web site seeking information about the agency, our missions and programs, and we've been getting feedback that they're liking what they're seeing. Recently NASA.gov received the highest customer-satisfaction rating of any government web site. NASA.gov also was included in a map of the most far-reaching web sites. And just today we received the statuette representing our third Webby award.
That's gratifying of course, but what does it mean besides a chance to blow our own horn? Mainly it's validation that what we do here works for you, the Web public. We take your feedback seriously and rigorously incorporate it into our efforts to improve the site.
To find out what the site's users think of it, and most importantly if they're finding what they're looking for, we get feedback through multiple sources: e-mail to the site, traffic statistics showing what content people are interested in, and a customer-satisfaction survey. We use this information to prototype new features, which we then test with representative users before releasing it. Our goal is to constantly improve our site and make it consistently one of the best on the Internet.
The latest customer-satisfaction data says we're headed in the right direction. Starting in 2001, we had a rating of 73. More recently we have rated a 79 in 2007, 80 in 2008, and 82 in 2009 and most recently as high as 84. In plain English, NASA's web site is closer to industry leading websites like Google.com (an 86 in 2009) or Amazon.com (also an 86) in customer satisfaction ratings than it is to other web sites both inside the federal government (74) and in the private sector (72).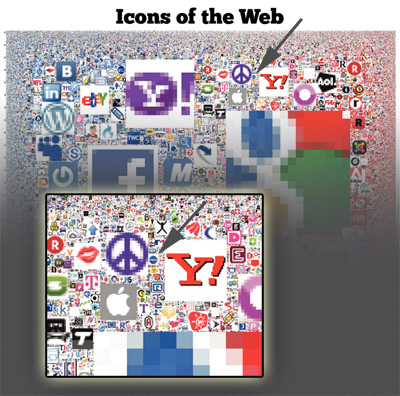 With continual growth in daily visitors to our site, increasingly high ratings of customer satisfaction, and additional recognition of our efforts to communicate effectively online, we are proud to be ranked among the best websites on the Internet. Earlier this year, Google released what it considers the top 1,000 web sites in the world by website traffic and NASA made the list. And, on Aug. 25, NMap released a poster of favicons, or small icons used by your web browser to represent a website, scaled to size based upon Alexa traffic rankings. NASA again made this ranking and was within the top-third of the rankings of the top 3,000 sites online.
This year's People's Choice Webby Award in the Government category was our second in a row and third overall. Earning recognition as a Webby winner is a tremendous accomplishment, one we humbly accept. With nearly 10,000 entries from all 50 states and 60 countries around the world, the 14th Annual Webby awards was the largest competition in the award's history.
With all of these rankings, ratings and awards, we believe that the public is finding NASA.gov to be an authoritative source for the latest science, technology and mission-related news from the agency. We continually strive to improve and serve our site's visitors in new and innovative ways. Our teams of web editors, multimedia producers and technical specialists meet at least weekly to discuss ways to enhance NASA's online experience.
With more than 50 staff located across the country and internationally, we are always on call and always posting the latest news from NASA. We are always listening to feedback, planning for the long term, analyzing what it will take to get the word out and rolling out enhancements to the NASA site.
In the next few weeks, look for a new presentation of news stories on the home page, a revamped version of the mobile site and online streaming of NASA TV in HD. And remember your feedback is always welcome.