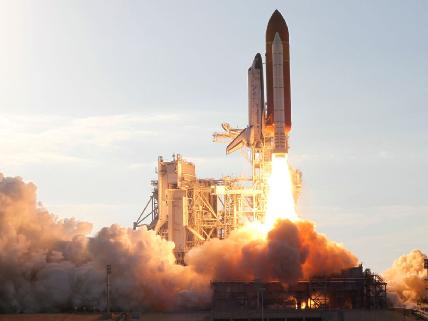 Last week, we launched our first shuttle mission in nine months and first of the remaining three space shuttle missions. Given the lull in shuttle missions and the ramp-up to the end of the space shuttle era, we weren't shocked to see an increase in traffic on the website. The places we received traffic, however, were enlightening and reflect growing trends we're seeing elsewhere. This was our fourth largest online video event to date on NASA.gov with over 284,822 unique streams of NASA TV being watched during launch with an average of 42,189 website users per second.
Demand for mobile coverage of NASA is growing at an incredible pace. Over 30,000 people watched the launch on their iOS devices. During the docking of Discovery to the International Space Station, over 20,000 of you were watching on a mobile device. This is incredible growth given that this time last year, we were not even running a beta test of mobile streaming. While we're elated that this is extremely popular, we still have work to do. We have seen incredible growth in the number of people viewing the stream to the point that it has tested some of our hardware to their limits and we are now looking to expand the capacity of the mobile streams.
> Watch NASA TV on your iOS Device
We are also working to add Android-compatible streaming of NASA TV. While the iOS stream was fairly straight forward with a standard MP4 encoded stream, Android presents a more complex array of formats and software versions to grapple with. We're working with our vendors and content hosts to sort this out as soon as possible so that NASA TV will be available to as many of Android users as possible. We hope to have an Android-compatible stream within the coming weeks.
Additionally, NASA TV is broadcasting in HD during this STS-133 Shuttle Mission via UStream. This is a new way to see NASA TV in high definition online. We're still evaluating this stream given our operational requirements. We hope to continue this after the mission, tweaking it to improve the performance along the way.
> Watch NASA TV in High Definition
As we work towards the successful completion of the Space Shuttle Program, there is more interest in the space shuttle than we've seen in a while. Some wonderful writers and program officials throughout the agency have helped to begin a compilation of the entire space shuttle era from every angle. This retrospective will only grow with new content being added all the way until the end of the last mission. It's worth reading these wonderful stories about the nuts and bolts of the program to really see the program from all perspectives.