Over the last few weeks, we've set up and begun doing a beta test broadcast of NASA TV onto your Apple iPhone, iPad, and iPod Touch. We tweeted it out early yesterday to our Twitter followers before the landing of the Space Shuttle Atlantis once we were sure it was ready to have more of a spotlight shone on it. It's also been linked on the NASA TV web page in the left column for the last couple of weeks since we set up the stream.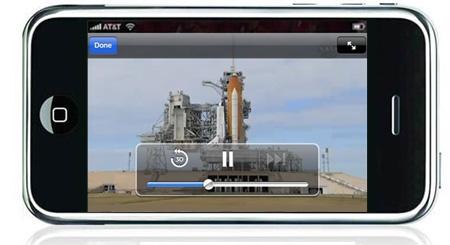 Watch the Stream Now
This specially formatted HTML5, H.264 stream was set up to test out new streaming technologies within the NASA network infrastructure and to demonstrate the technology as practical given the resources available for NASA.gov. During the beta period, we're trying to identify issues and concerns with the reliability and delivery of the stream to you, our users. We're also trying to gauge the interest of our online audience in having NASA TV available for streaming on the iPhone and other mobile devices.
For now, this is just the first step. If everything goes well during the beta test period, we'll evaluate our next steps taking into account the availability of our limited resources. For the immediate future, this is an open ended beta test period. We are listening for feedback on the quality, reliability, and availability of the NASA TV stream. We're also listening for ideas of what you think the next steps should be. Some of the ideas we've most often heard are integration of NASA TV into the NASA iPhone App, mobile apps for other devices such as Android and Blackberry, and streaming NASA TV onto other devices. We've purchased the hardware that will allow us to do some of these ideas and expect to begin more streaming this summer.
As always, you can e-mail the NASA.gov Web Team at webcomments@hq.nasa.gov or drop us a line in the comments. We also monitor tweets sent to @NASA. We'll try to respond as time allows, but know that we read every comment, e-mail, and tweet sent our way.