The Northrop Grumman (NG) CRS-17 cargo resupply mission is scheduled for Saturday, Feb. 19, at 12:40 p.m. EST. The Cygnus spacecraft will launch aboard the Antares vehicle carrying nearly 8,300 pounds of science, cargo, and technology demonstrations to the International Space Station.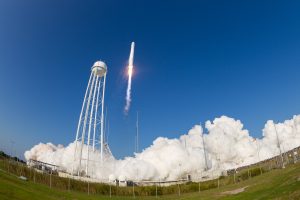 Antares will lift off from NASA's Wallops Flight Facility on Wallops Island, Virginia, from the Mid-Atlantic Regional Spaceport's Pad 0A launch pad. 
We're inviting the public to participate in a virtual #NASASocial event for the Northrop Grumman CRS-17 Cargo Resupply mission. While we cannot invite the public onsite for one of our usual NASA Social events, we are excited to present an opportunity for people of all ages from all around the world to participate in. 
We will share videos and information up until the day of launch including: 
Science overviews

Live stream of the NG CRS-17 launch

 

Behind-the-scenes processing of the Cygnus spacecraft


RSVP to the Facebook event for social media updates to stay up to date on mission information, mission highlights, and interaction opportunities.
Don't have Facebook? You can join our Eventbrite virtual guest program for this mission. NASA's virtual guest experience also includes curated launch resources, notifications about related opportunities or changes, and a stamp for the NASA virtual guest passport following a successful launch.