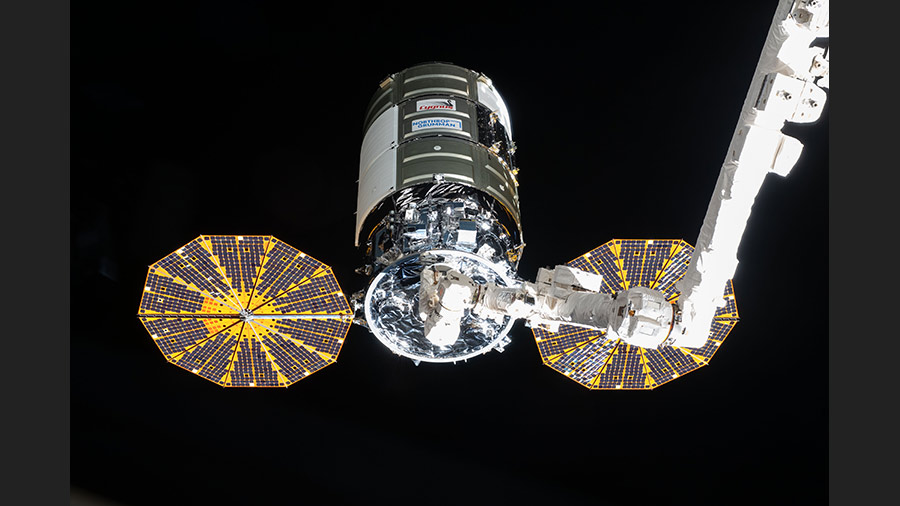 Following its launch earlier today, Cygnus' solar arrays have deployed and the S.S. Piers Sellers is on its way to the International Space Station. The arrays deployed following launch on the Northrop Grumman Antares rocket at 12:40 p.m. EST from NASA's Wallops Flight Facility in Virginia, carrying 8,300 pounds of research, hardware, and supplies to the International Space Station. Solar array deployment completes the launch phase.
The Cygnus spacecraft will arrive at the space station Monday, Feb. 21, for a capture at approximately 4:35 a.m. Coverage of the spacecraft's approach and arrival at the space station will begin at 3 a.m. on NASA Television and the agency's website.
Cygnus spacecraft is filled with supplies and payloads including critical materials to directly support dozens of the more than 250 science and research investigations that will occur during Expedition 66. Using the Canadarm2 robotic arm, NASA astronaut Raja Chari will capture Cygnus, and Kayla Barron will be acting as a backup. After capture, the spacecraft will be installed on the Unity module's Earth-facing port.
---
Learn more about station activities by following the space station blog, @space_station and @ISS_Research on Twitter, as well as the ISS Facebook and ISS Instagram accounts.
Get weekly video highlights at: http://jscfeatures.jsc.nasa.gov/videoupdate/
Get the latest from NASA delivered every week. Subscribe here: www.nasa.gov/subscribe