Live launch commentary has begun on NASA TV for this morning's launch of Orbital ATK's Antares rocket from Virginia Space's Mid-Atlantic Regional Spaceport Pad 0A at NASA's Wallops Flight Facility on Virginia's Eastern Shore.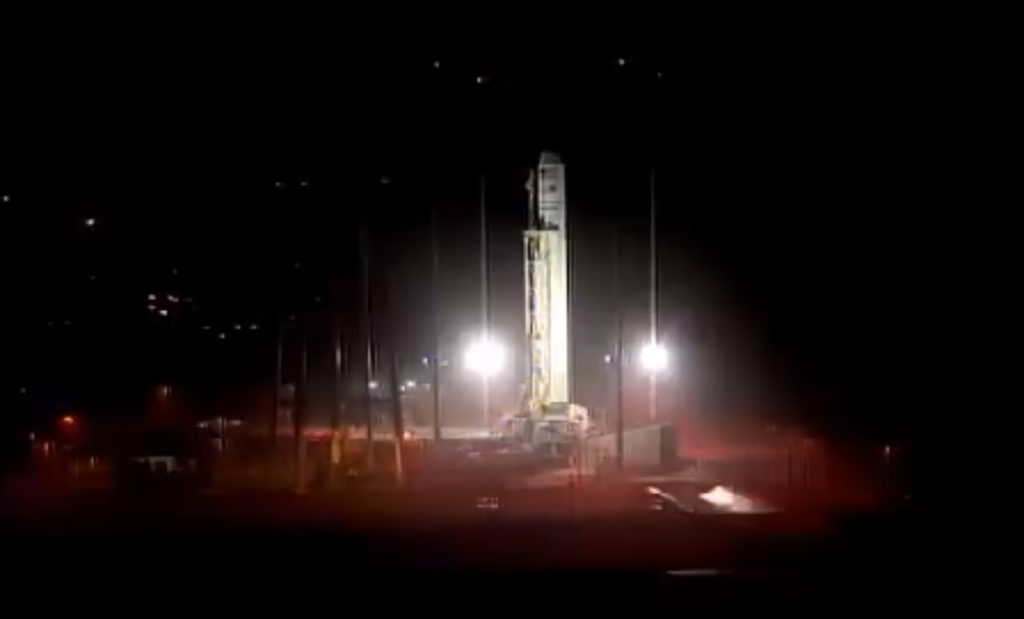 All stations at mission control, NASA's Johnson Space Center, Houston, are "go" for launch.
Antares, carrying Orbital ATK's Cygnus cargo spacecraft, is on schedule for a 5-minute launch window opening May 21 at 4:39 a.m. EDT on the company's CRS-9 cargo resupply mission to the International Space Station.
The countdown uses both a range countdown clock (L Minus Clock) and a software sequencer (T Minus Clock). The launch countdown is initiated with the Range Clock at L minus 6 hours 15 minutes and is a running clock. The T Minus Clock is initiated at T minus 3 hours 10 minutes (sequencer start-up) and stops with built-in holds.
EDT                        Event
3:05 am           Start propellant loading at T-1 hour, 30 minutes (L-1 hour, 35 minutes)
4:19 am           Enter into final 10-minute hold at T-8 minutes (L-20 minutes)
4:27 am           Poll for readiness to proceed with the final countdown (L-12 minutes)
4:29 am           Start final countdown at T-10 minutes
4:36 am           Initiate Auto Sequence Handoff for the Terminal Count (T-3:30)
4:39 am           LAUNCH
4:42 am           Main Engine Cutoff (MECO) on Antares first stage
4:42 am           Stage 1 Separation
4:42 am           Fairing Separation
4:43 am           Interstage Separtion
4:43 am           Second stage ignition
4:46 am           Stage 2 Burnout/orbit insertion
4:48 am           Cygnus separation from second stage
5:45 am           NASA TV Commentary resumes for Solar Array Deploy
~6:00 am         Solar Array Deployment Begins
~6:30 am         Solar Array Deployment Ends
~7:00 am         Post-launch news conference
Today's launch is the ninth contracted Orbital ATK commercial resupply services mission to the International Space Station. Cygnus will carry about 7,400 pounds of supplies and payloads, including critical materials to directly support dozens of the more than 250 science and research investigations that will occur during the space station's Expeditions 55 and 56.
When Cygnus arrives to the space station, on Thursday, May 24, Expedition 55 Flight Engineer Scott Tingle will grapple the spacecraft, backed by Ricky Arnold, and Drew Feustel will monitor Cygnus systems during its approach. They will use the space station's robotic Canadarm2 to take hold of the Cygnus, dubbed the S.S. James "J.R." Thompson. After Cygnus' capture, ground controllers will command the robotic arm to rotate and install Cygnus onto the station's Unity module.
How to View May 21 Antares CRS-9 Launch, In Person or Online