A prelaunch briefing will air live on NASA Television and the agency's website today beginning at 1 p.m. EDT to highlight launch preparations for Northrop Grumman's 16th contracted cargo resupply mission to the International Space Station to deliver approximately 8,200 pounds of research, supplies, and hardware to the orbital laboratory and its crew. 
Viewers can submit questions for the briefings using #askNASA on social media.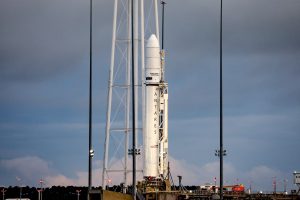 The Cygnus is scheduled for launch on the company's Antares rocket at 5:56 p.m. EDT, Tuesday, Aug. 10, from the Mid-Atlantic Regional Spaceport at NASA's Wallops Flight Facility in Virginia. 
The prelaunch briefing participants are: 
Joel Montalbano, International Space Station Program Manager

 

 Kirt Costello, chief scientist for International Space Station Program

 

 Frank DeMauro, vice president and general manager, Tactical Space Systems, Northrop Grumman

 

Kurt Eberly, director, Space Launch Programs, Launch and Missile Defense Systems, Northrop Grumman

 

 Brittany McKinley, Wallops Range Antares Project Manager

 
Follow launch activities at the launch blog and @NASA_Wallops and learn more about space station activities by following @space_station and @ISS_Research on Twitter as well as the ISS Facebook and ISS Instagram accounts.