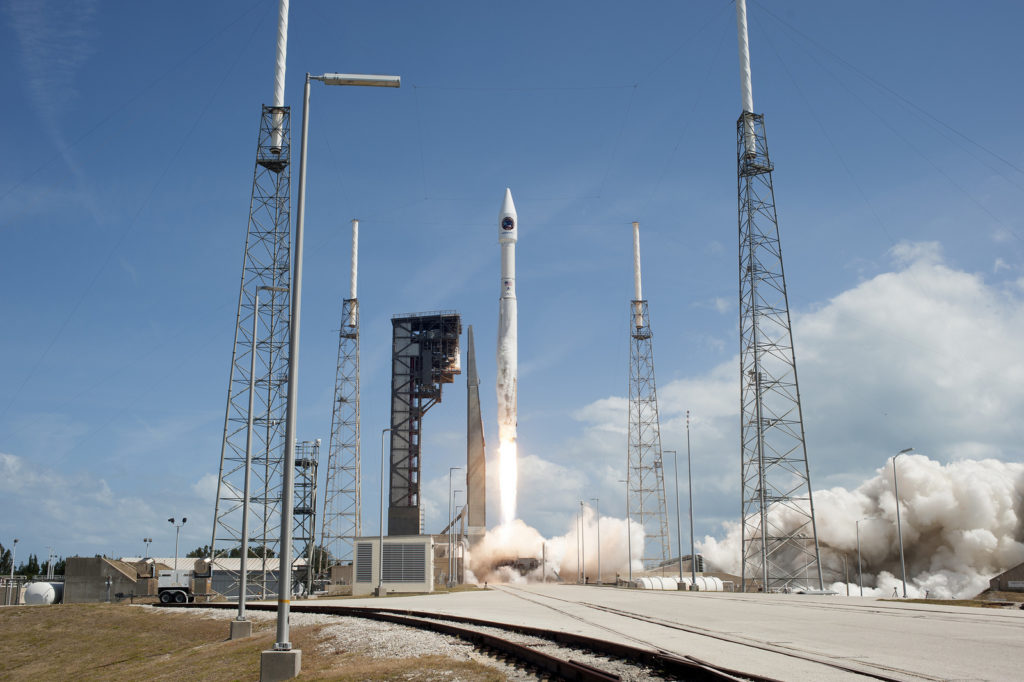 Resident crew members aboard the International Space Station are expecting a delivery early Saturday morning following today's successful liftoff of the Orbital ATK CRS-7 cargo resupply mission aboard a United Launch Alliance Atlas V rocket.
"It's a great feeling to be back at Kennedy Space Center watching commercial cargo launch to the International Space Station," said Joel Montalbano, deputy manager of the International Space Station Program at NASA's Johnson Space Center in Houston. "This is a great start and I want to thank our Orbital ATK and United Launch Alliance colleagues for where we are today."
The on-time launch at 11:11 a.m. EDT marked the conclusion of a smooth countdown at Space Launch Complex 41 at Cape Canaveral Air Force Station in Florida.
"We had a pretty smooth count, with a couple of minor issues quickly resolved," said Vern Thorp, United Launch Alliance's program manager for commercial missions. The weather cooperated and the vehicle performance was exactly as expected.
"All the predicted timing of events was right on the money, and the orbit we inserted the spacecraft into was very accurate," Thorp said.
The spacecraft is in good health as it starts its three-day chase of the station.
"The status of the spacecraft is great," said Frank Culbertson, president of the Orbital ATK Space Systems Group. "The solar arrays are fully deployed and rotated and generating power; the team is in control and we're beginning our approach to the space station."
The Orbital ATK CRS-7 mission is the Cygnus module's seventh flight to the orbiting outpost under NASA's Commercial Resupply Services contract, and the third such flight aboard an Atlas V. The delivery of more than 7,600 pounds of cargo will support several new and existing science investigations and will also include crew supplies and station equipment.
Expedition 51 astronauts Thomas Pesquet of the European Space Agency and Peggy Whitson of NASA will use the station's robotic arm to grapple Cygnus at about 6:05 a.m. Saturday.
Space Station Program managers were able to pipe today's launch video to the station so the crew could watch live, Montalbano said.
"The crew passed their congratulations to the teams down here," he added.
For further updates on the Orbital ATK CRS-7 mission, visit https://www.nasa.gov/orbital.