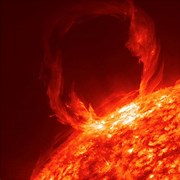 October is National Disability Employment Awareness Month (NDEAM). NDEAM is an annual campaign to raise awareness about disability employment issues and celebrate the contributions of America's employees with disabilities. The 2018 NDEAM theme is "America's Workforce: Empowering All."
In 1945, Congress decreed the first week in October each year as "National Employ the Physically Handicapped Week." In 1962, the word "physically" was removed to acknowledge individuals with all types of disabilities. In 1988, Congress expanded the week to a month and changed the name to "National Disability Employment Awareness Month."
At NASA, we work intentionally to attract and retain employees who reflect the diverse world we live in and serve. Hiring employees with diverse abilities strengthens our capability to achieve our mission, creates innovation, and enhances employee engagement. NASA is committed to equal employment opportunity, a workplace free of discrimination and harassment, and a workplace that supports reasonable accommodations and accessible tools and technology so our employees with disabilities can win at work and fully contribute to mission success across the agency.
Many people have disabilities, whether overt or hidden. NDEAM is about encouraging each of us to embrace differences to see the potential in everyone.
In commemoration of National Disability Employment Awareness Month, I invite all employees to frequent the ODEO blog to get information on various activities across NASA and to participate in events in your communities.