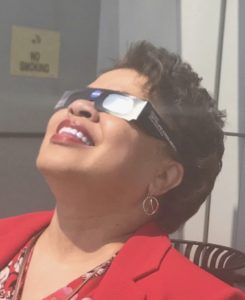 Ms. Janet E. Sellars is NASA's Director of Diversity and Data/Analytics, where she serves as the principal advisor to the NASA Associate Administrator for Diversity and Equal Opportunity on matters concerning the achievement and management of a diverse and inclusive workforce, to include but not limited to: NASA's diversity and inclusion programs, the Model Agency EEO Plan and Annual Update under the EEOC's Management Directive 715, and special emphasis programs. Ms. Sellars also provides executive direction in the administration of business intelligence tools to inform strategy and solutions for program-related operational goals and objectives to assist NASA in fulfilling its strategic mission and goals.
Prior to her current role, Ms. Sellars served as the Workforce Strategy and Planning Officer at NASA's Langley Research Center in Hampton, Virginia where she developed and managed Langley's strategic workforce plans, conducted analysis, and provided oversight of the implementation of Langley Research Center's workforce strategy.
During the Presidential transition, Ms. Sellars served as the Acting Associate Administrator for Diversity and Equal Opportunity at the National Aeronautics and Space Administration (NASA). In this role she was the principal advisor to NASA's Administrator and Deputy Administrator on diversity and equal opportunity matters for NASA.
Ms. Sellars previously served as NASA Langley Research Center's Director of Education where her responsibilities included coordinating educational program efforts for national programs, building relationships with members of the education community and creating initiatives to develop outreach and collaborative efforts with the education community, other agencies, universities and industry.
Ms. Sellars has also served as the EEO and Diversity Director for NASA Langley Research Center. Her responsibilities included ensuring employees were empowered to rise to their highest potential and be valuable contributors to the NASA mission by promoting an inclusive work environment, free from unlawful discrimination and harassment. Ms. Sellars was the recipient of NASA's Honor Award Medal for Equal Employment Opportunity for outstanding leadership in promoting NASA's EEO and diversity and inclusion efforts during her tenure.
Ms. Sellars completed her undergraduate degree at the University of the State of New York (Regents College). She earned a master's degree in Human Relations from the University of Oklahoma as well as completed post-graduate work in Educational Leadership at Liberty University.
Ms. Sellars has also served in the United States Air Force as a paralegal and has worked as a college administrator for two graduate degree programs as well as taught paralegal studies at the undergraduate level.
Ms. Sellars was a 2012 recipient of the Women of Distinction – Government award from the YWCA of the Virginia Peninsula. Ms. Sellars was selected for the Black Engineer of the Year Award for Corporate Promotion of Education for 2017 and she is a 2018 recipient of NASA's Honor Award for Outstanding Leadership.