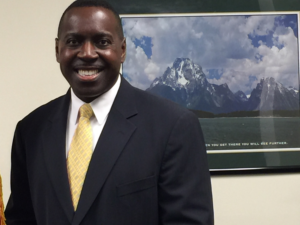 Mr. Vincent Patterson reported to National Aeronautics and Space Administration Headquarters on November 26, 2018.
Prior to his current position, Mr. Patterson served as the Director, Equal Employment Opportunity (EEO) and Diversity & Inclusion (D&I) at Commander, Navy Installations Command (CNIC) from April 2014 to November 2018. In this role, he led EEO and D&I program management for the enterprise, inclusive of CNIC Headquarters and 10 regional commands servicing approximately 37,000 employees worldwide. Prior to assuming the CNIC position, he worked in the private sector as a Senior Equal Employment Consultant.
Mr. Patterson also served as an Equal Employment Manager at the U.S. Department of Homeland Security, U.S. Coast Guard Civil Rights Directorate from August 2006 – January 2012. He managed the National Affirmative Employment Program and developed initiatives to educate the workforce regarding legal requirements under Title VII of the Civil Rights Act of 1964 and Sections 501 and 504 of the Rehabilitation Act of 1973. Mr. Patterson was directly responsible for coordinating and leading the agency's cross-functional taskforce in establishing a Model EEO program under the Equal Employment Opportunity Commission's Management Directive 715. In addition, he was responsible for EEO policy development and strategic implementation of agency procedures related to Title VI of the Civil Rights Act of 1964. An expert program evaluator, he conducted numerous EEO technical assistance assessments at the district and field unit levels.
Mr. Patterson is a retired commissioned officer of the United States Coast Guard. He served on active duty from October 1984 to July 2006. During his military career, Mr. Patterson held key leadership positions such as Commanding Officer and Executive Officer at multi-mission operational commands and served as Ethnic Policy Advisor to the Commandant (Agency Head) where he provided expert guidance on Coast Guard D&I initiatives. He earned several military awards that included the Meritorious Service Medal, three Coast Guard Commendation Medals (with operational distinguishing device), Department of Transportation 9/11 Medal, Coast Guard Achievement Medal, and numerous other medals and decorations. Mr. Patterson is also a recipient of the Federal Bureau of Investigation Director's Award for "Exceptional Service in the Public Interest" for his leadership and collaboration in joint federal operations.
Mr. Patterson earned a Master of Science in Human Resources Administration and graduate certificates in both Public Administration and Leadership from Central Michigan University. He holds a Bachelor of Science in Human Resources Management, an Associate in Applied Science in Management Studies, and a Certificate of Mastery in Diversity & Inclusion. Mr. Patterson is also a graduate of the Leadership Development Program at the highly rated Center for Creative Leadership in Greensboro, NC.