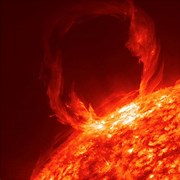 The Workforce Recruitment Program (WRP) is a recruitment and referral program that connects Federal employers nationwide with highly motivated college students and recent graduates with disabilities who are eager to prove their abilities in the workplace through summer or permanent jobs.
The U.S. Department of Labor's Office of Disability Employment Policy and the U.S. Department of Defense's Office of Diversity Management & Equal Opportunity manage the program, which continues to be successful with the participation of many other Federal agencies and sub-agencies. Since the program's expansion in 1995, over 7,000 students and recent graduates have received temporary and permanent employment opportunities through the WRP.
NASA volunteers support WRP by conducting interviews with these individuals. NASA also can access the WRP database and benefit by the hiring of highly qualified individuals through Schedule A hiring authority. The 2019 WRP database is now available at www.wrp.gov!
Any Federal employee may request access to this fantastic resource of over 2,100 college students, graduate students, and recent graduates with disabilities from over 360 schools nationwide who are seeking summer or permanent employment in Federal agencies and private companies worldwide. Every candidate is Schedule A eligible and ready to work for you. You are welcome to register as a Federal employer and encouraged to share this information with your agency and larger networks! You can register for a 2019 employer account by clicking the "Employer Registration" button at www.wrp.gov.