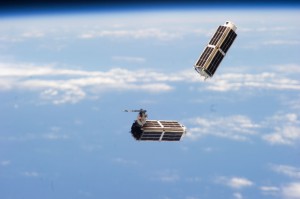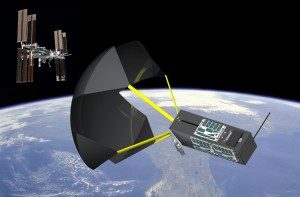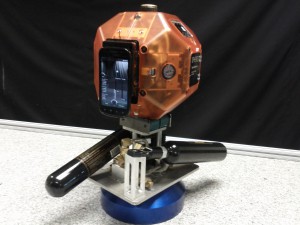 Orbital's Cygnus spacecraft with cargo for the International Space Station is scheduled to launch from the Mid-Atlantic Regional Spaceport's Launch Pad 0A at NASA's Wallops Flight Facility in Virginia on Sunday, July 13 at 12:52 p.m. EDT.
About half of the Cygnus' 3,300-pound payload is food for the station's crew, with a combination of science experiments, spare parts and experiment hardware making up the other half. A pre-launch briefing about the mission (known as Orb-2) was held at 4 p.m. on July 11 to discuss these science and technology components.
Among the research investigations are a flock of small satellites (known as CubeSats) that are designed to take images of Earth, developed by Planet Labs of San Francisco; and a satellite-related investigation called TechEdSat-4 built by NASA's Ames Research Center in California. TechEdSat-4 aims to develop technology that will eventually enable small samples to be returned to Earth from the space station. In addition, a host of student experiments are being flown in association with the Student Spaceflight Experiment Program, an initiative of the National Center for Earth and Space Science Education and NanoRacks.
Another small satellite headed to the space station is Smart SPHERES, a prototype free-flying space robot. NASA has been testing the Smart SPHERES on the space station since 2011. During this summer, astronauts will upgrade these existing space robots to use Google's "Project Tango" smartphone, which features a custom 3-D sensor and multiple cameras. NASA will then use the Smart SPHERES to test free-flying 3-D mapping and navigation inside the space station. NASA is developing the Smart SPHERES to perform work on the space station that requires mobile sensing, such as environmental surveys to monitor levels of radiation, lighting and air quality. They also will be used to monitor inventory and conduct experiments.
Orbital 2 Cargo By-The-Numbers
Total weight of cargo: 3293 pounds / 1493.8 kilograms
Crew supplies: 1684 pounds / 764.2 kilograms

Crew care packages
Crew provisions
Food

Hardware: 783 pounds / 355.1 kilograms

Crew Health Care System hardware
Environment Control and Life Support equipment
Electrical Power System hardware
Extravehicular Robotics equipment
Flight Crew Equipment
PL Facility
Structural & Mechanical equipment
Internal Thermal Control System hardware

Science and research: 721 pounds / 327 kilograms

CubeSats and deployers
Japan Aerospace Exploration Agency Dynamic Surf Hardware
Human Research Program resupply

Computer supplies: 18 pounds / 8.1 kilograms

Command and Data Handling
Photo and TV equipment

Spacewalk tools: 87 pounds / 39.4 kilograms
› NASA's Orbital website
› Launch viewing maps from Orbital Sciences Corp.
› Latest Student Science Heads For Space
› Orbital Mission Delivers Delights to Station
› NASA Launches Smartphone Upgrade and CubeSat