Both Cygnus solar arrays have deployed successfully and rotated into correct alignment. Once Cygnus moves into sunlight (the spacecraft is currently in Earth's shadow), the arrays are expected to provide necessary power.
The deployment of Cygnus cargo spacecraft solar arrays generally occurs about 90 minutes after launch and takes about 10 minutes to complete.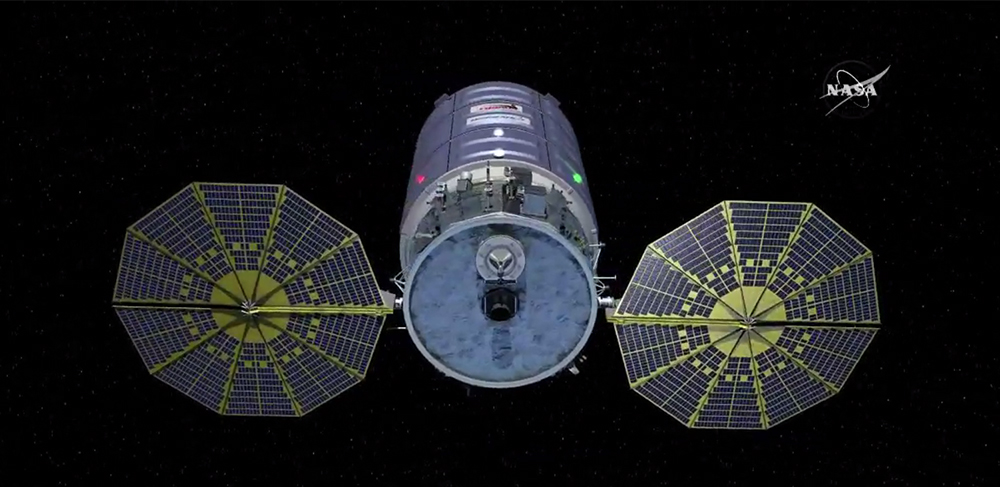 A live post-launch press conference from NASA's Wallops Flight Facility near Chincoteague, Virginia, is scheduled to air on NASA TV at 10:15 p.m. EDT.
Cygnus is loaded with about 5,100 pounds of science investigations, food, supplies and hardware for the space station and its crew.
When Cygnus arrives to the space station, on Sunday, Oct. 23, Expedition 49 Flight Engineers Takuya Onishi of the Japan Aerospace Exploration Agency and Kate Rubins of NASA will grapple the spacecraft. They will use the space station's robotic arm to take hold of the Cygnus, dubbed the S.S. Alan Poindexter. After Cygnus' capture, ground controllers will command the station's arm to rotate and install it on the bottom of the station's Unity module.
The Cygnus spacecraft will spend about 5 weeks attached to the space station. Cygnus will remain at the space station until November, when the spacecraft will depart the station and initiate the second spacecraft fire safety investigation, Saffire-II, and then dispose of approximately several tons of trash during its fiery reentry into Earth's atmosphere.