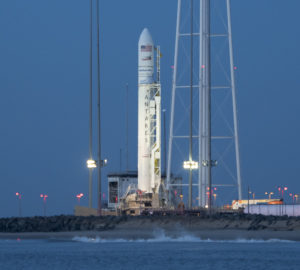 Aside from the unseasonable cold temperatures, weather conditions look excellent for Nov. 11's launch attempt of Orbital ATK's Antares rocket with no real weather concerns at this time, according to the latest forecast for the range at NASA's Wallops Flight Facility on Virginia's Eastern Shore. Weather at launch time, 7:37 a.m. EST, is forecast at 95 percent favorable.
A strong cold front will move through the Wallops Region this morning, Nov. 10, ushering in the coldest airmass of the season. Gusty northwesterly winds will bring a dry and cold airmass into the Wallops Region, with winds possibly gusting as high as 30-35 mph during the late morning and early afternoon today. A broad area of Canadian high pressure will quickly build in behind the front, centering over the Great Lakes Region and ridging south toward the Wallops Region for Saturday morning's launch.
The unseasonably cold airmass will allow for shallow cumulus cloud development over the Chesapeake Bay this evening into Saturday morning; however, a northerly component to the wind will force the cumulus cloud cover south and west of the Wallops Region. There is only a very slight chance that the cumulus cloud cover will move over the Wallops Region Saturday morning. This weather setup will bring mostly clear and cold conditions for Saturday morning, with temperatures expected to bottom out in the mid- to upper-20s.