Graphics by Aimee Crane, words by Sarah Schlieder
Orion is launching December 4 on its first test flight. This launch involves more than just a rocket that goes WOOSH! Orion will reach a height of 3,600 miles—15 times higher than the International Space Station—and orbit the Earth twice during the 4.5 hour mission. Want a closer look at what will take place during flight? Here are the eight things you can expect to see on Orion's first flight.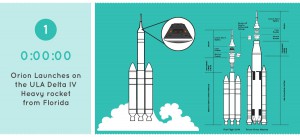 Launch
It's going to be loud. It's going to be bright. It's going to be smoky. Engines are fired, the countdown ends and Orion lifts off into space atop the United Launch Alliance Delta IV Heavy rocket from the launch pad at Cape Canaveral in Florida.
Exposure
It's time to fly! The protective panels surrounding the service module are jettisoned and the launch abort system separates from the spacecraft.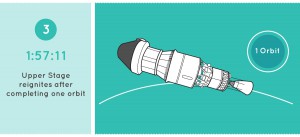 Re-ignition
Orbit 1 is complete! The upper stage will now fire up again to propel Orion to an altitude of 3,600 miles during its second trip around Earth.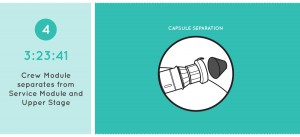 Separation
It's now time to prepare for reentry. The service module and upper stage separate so that only the crew module will return to Earth.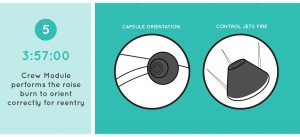 Orientation
Orion's first flight will be uncrewed, but that doesn't mean we can allow Orion to return to Earth upside down. This test flight will help us test the control jets to ensure that they can orient the capsule in the correct reentry position.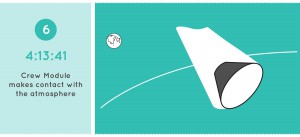 Heating
Things are heating up as Orion slams into the atmosphere at almost 20,000 mph and encounters temperatures near 4,000 degrees F.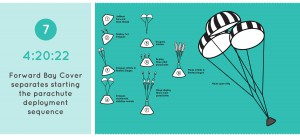 Deploy
After initial air friction slows the capsule from 20,000 mph, Orion will still be descending at 300 mph—too fast for a safe splashdown. A sequence of parachute deployments will create drag to further slow the spacecraft to a comfortable 20 mph.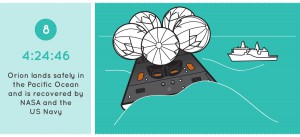 Landing
Orion will splashdown in the Pacific Ocean off the coast of Baja California, where it will be recovered with help from the United States Navy.
Orion's first flight has been successfully completed. Next step: deep space.