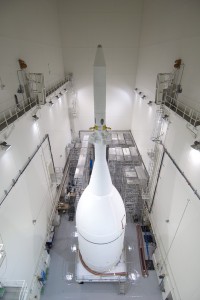 Engineers and technicians have completed their careful work in preparing the Orion spacecraft for launch and the time has come to move the next generation spaceship to the launch pad to United Launch Alliance's waiting Delta IV-Heavy rocket. The move is the latest major milestone ahead of the launch of this first flight test which will be flown without a crew. The mission was designed to make sure the spacecraft and heat shield can handle the stresses envisioned for future flights that call for Orion to safely take astronauts beyond low Earth orbit to deep space destinations including asteroids. Orion is a vital element in NASA's plan to eventually send astronauts on a journey to Mars.
Tonight though, Orion's trip is confined to NASA's Kennedy Space Center and Cape Canaveral Air Force Station. A news briefing at 4:30 p.m. ET will precede the move  and include comments from Bob Cabana, director of Kennedy, Ellen Ochoa, director of NASA's Johnson Space Center, Mark Geyer, Orion's program manager, and Mike Hawes, Lockheed Martin Orion program manager. The trip will begin at 8 p.m. at the Launch Abort System Facility where a 52-foot-tall protective fairing and the launch abort system were attached to the 10-foot, 11-inch-tall crew module. About six hours later, around 2 a.m., Orion will arrive at Space Launch Complex 37B. Orion will be lifted to the top of the Delta IV Heavy later that morning.
All of which sets the stage for a liftoff December 4 at 7:05 a.m. EST on a mission that will see Orion fly about 3,600 miles above Earth during two orbits before returning to the planet and splashing down in the Pacific Ocean. It's an important first step toward NASA's next giant leap.