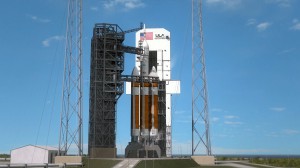 Mission: Orion Flight Test
Launch Date: Dec. 4, 2014
Launch Time: 7:05 a.m. EST
Launch Window: 2 hours, 39 minutes
Launch Site: Space Launch Complex 37,
Cape Canaveral Air Force Station, Fla.
Splashdown (if launched at start of window): 11:29 a.m. EST
Mission highlights: Orion will lift off aboard a Delta IV Heavy rocket to perform the first flight test in space of the spacecraft that is being designed to carry astronauts on exploration missions into deep space. Orion will fly this mission without astronauts and will orbit the Earth twice reaching about 3,600 miles above the planet, 15 times higher than the International Space Station.
The spacecraft will re-enter Earth's atmosphere at close to 20,000 mph and the heat shield will be tested against plasma that is 4,000 degrees F. Orion is to splashdown in the Pacific Ocean off the coast of Baja California where it will be recovered by NASA and U.S. Navy teams.