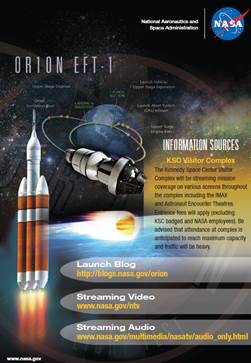 Meteorologists have not changed their prediction for Thursday morning's weather and they continue to call for a 60 percent chance of acceptable conditions for Orion's lift off on its first flight test. The launch window opens at 7:05 a.m. EST and closes 2 hours, 39 minutes later at about 9:44 a.m. The concern remains early morning precipitation at or near the Florida spaceport. NASA reserved the Eastern Range for Friday and Saturday as well, in case Thursday's launch opportunity is not made.
NASA TV will air to in-depth briefings today about Orion and its place in NASA's plans to explore deep space including an eventual journey to Mars. Tune in or catch the NASA TV stream at www.nasa.gov/nasatv beginning at noon EST for the Journey to Mars briefing from NASA Headquarters and Kennedy Space Center, then at 1 p.m. EST for the Orion Flight Test Status and Overview briefing.
Orion's Mission Management Team will meet this afternoon to evaluate the status of the spacecraft and go over what steps are left before the mission lifts off in two days.