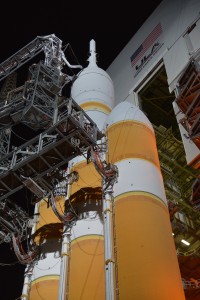 Good morning from Florida, and welcome to our continuous coverage of the countdown, launch and flight of the Orion spacecraft on its first flight test. We are 2 hours and 5 minutes from the launch of Orion on a Delta IV Heavy rocket, the largest rocket in America's current inventory.
There are no technical problems reported or being worked at this time and the weather forecast still calls for a 70 percent chance of acceptable conditions when our launch window opens at 7:05 a.m. EST. Between now and then, we will let you know as the Orion launch and mission control teams pass key milestones. We'll also give you some context for what this mission means to Orion's development and to the nation's ambitions to send astronauts on deep space exploration missions in the future, including eventual flights to Mars.
Stick with us throughout the mission, too, because we'll be here through Orion's Pacific Ocean splashdown about 4.5 hours after launch.