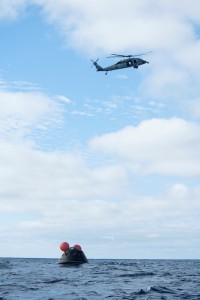 Orion is expected to be off-loaded from the USS Anchorage today at Naval Base San Diego today following its recovery Friday after splashdown in the Pacific Ocean. The spacecraft is nestled inside the well deck of the amphibious ship during the trek from its splashdown point about 600 miles southwest of San Diego.
The spacecraft then will be transported to NASA's Kennedy Space Center in Florida where engineers will gather more information about Orion's performance.
Orion's flight tested many of the systems most critical to crew safety, including key separation events, parachutes and its heat shield. During Orion's re-entry into Earth's atmosphere, the spacecraft endured speeds of 20,000 mph and temperatures near 4,000 degrees F.