Across the country, teams are making progress ahead of the first flight of Orion atop the agency's Space Launch System rocket. At NASA's Johnson Space Center in Houston, engineers are testing spacesuits that will be worn by astronauts in Orion. The suit is a modified version of the launch and entry suit worn by space shuttle astronauts and is being upgraded to allow crews to conduct spacewalks and sustain them in the unlikely event Orion loses pressure.
At Kennedy Space Center in Florida, an adapter that will connect the Orion crew module to the service module built by ESA (European Space Agency) is being prepared for shipment to the Space Power Facility at the agency's Glenn Research Center Plum Brook Station in Ohio. Once the adapter and a structural test article of the service module arrive there, testing will be done to evaluate how the service module endures the environmental conditions it will experience on launch day.
Orion progr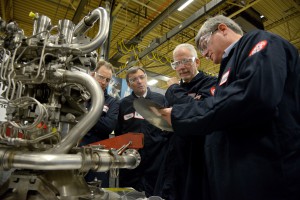 am managers also recently visited NASA's Marshall Space Flight Center in Huntsville, Alabama and Langley Research Center in Hampton, Virginia, along with United Launch Alliance's Decatur, Alabama facility, to thank employees for the work they did to make Orion's December flight test successful. The week of March 23, the leadership team will visit NASA's Goddard Space Flight Center in Greenbelt, Maryland, which provided spacecraft communications support during the flight test, as well as NASA Headquarters in Washington.
To check out photos of Orion progress, visit: https://www.flickr.com/photos/nasaorion/