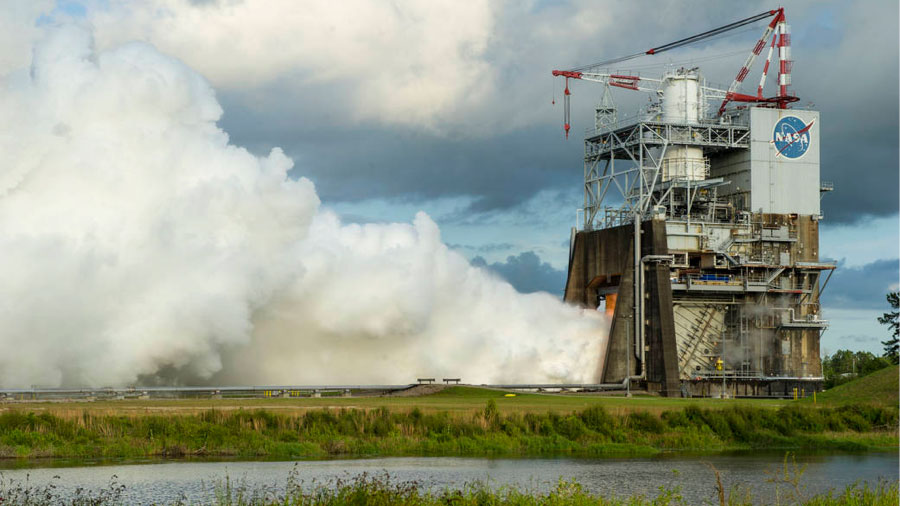 NASA's Space Launch System (SLS), which will launch Orion on missions to deep space destinations like an asteroid and on toward Mars marked important steps this week to prepare for journeys beyond Earth orbit.
Engineers at the agency's Stennis Space Center near Bay St. Louis, Mississippi, conducted a successful 450-second test of the RS-25 rocket engine May 28. The hotfire test was conducted on the historic A-1 Test Stand where Apollo Program rocket stages and Space Shuttle Program main engines also were tested. RS-25 engines tested on the stand will power the core stage of NASA's new rocket with Orion atop it.
One of the objectives being evaluated in this test is the new engine controller, or "brain." The RS-25 is unique among many engines in that it automatically runs through its cycles and programs. The controller monitors the engine conditions and communicates the performance needs. The performance specifications, such as what percentage of thrust is needed and when, are programmed into the controller before the engines are fired. For example, if the engine is required to cycle up to 90 percent thrust, the controller monitors the fuel mixture ratio and regulates the thrust accordingly. It is essential that the controller communicates clearly with the engine; the SLS will be bigger than previous rockets and fly unprecedented missions, and its engines will have to perform in new ways.
Engine maker Aerojet Rocketdyne also completed RS-25 Engine 2063 at Stennis, after approximately three months of work. The new engine becomes the 16th assembled RS-25 flight engine in inventory for SLS flights. The engine will be one of four RS-25s used to power Exploration Mission 2, the second SLS launch with Orion targeted for the 2021 time frame. Testing of these four engines will begin later this year as work accelerates on NASA's newest launch vehicle. Four previously-flown RS-25s will be attached to the first SLS core stage and test fired together as a stage before being approved for the first SLS launch planned for 2018, the first integrated mission with Orion. Check out more, including a timelapse video of the assembly here.