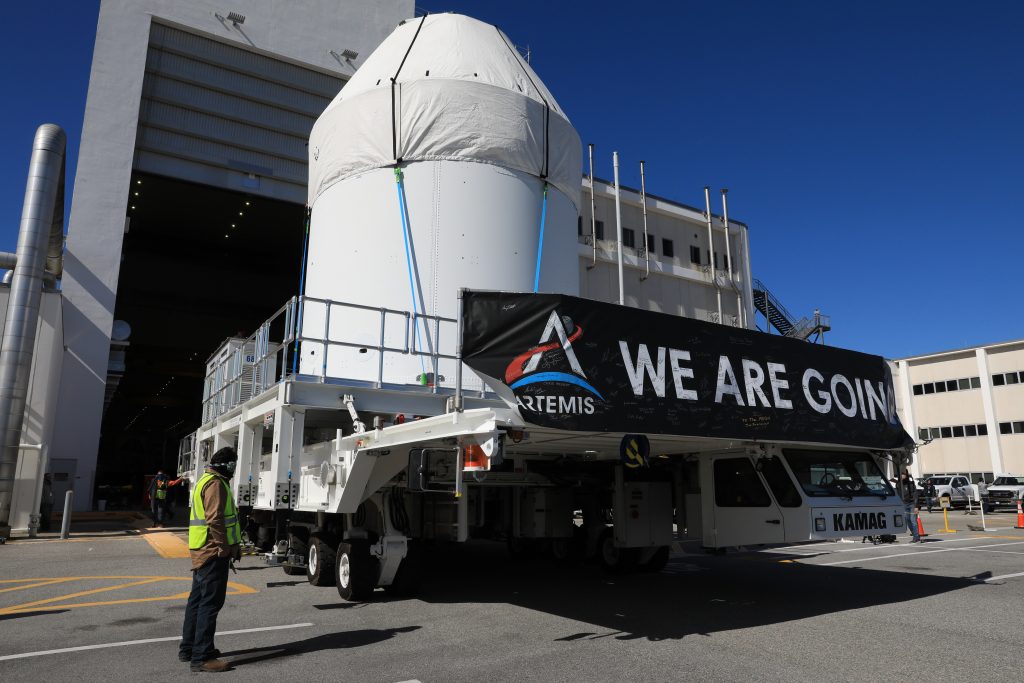 NASA marked another milestone on the path toward the launch of Artemis I on Saturday, as engineers moved the Orion spacecraft out of the Neil Armstrong Operations & Checkout Building on its way to the Multi-Payload Processing Facility (MPPF) at the agency's Kennedy Space Center in Florida, where the spacecraft will be fueled for its mission around the Moon.
The milestone marked completion of years of assembly and testing operations for the spacecraft and formal transfer of the spacecraft from the Orion Program and its prime contractor Lockheed Martin to NASA's Exploration Ground Systems (EGS) team responsible for processing the vehicle, integrating it with the Space Launch System rocket, and launching them on their inaugural mission together.
The spacecraft was moved out of the O&C aboard a transport pallet and air bearing system which sits on top of a transporter. In the MPPF, it will be moved into a service stand that provides 360-degree access, allowing engineers and technicians from EGS, its lead contractor Jacobs Technology, and other support organizations to fuel and service the spacecraft. Crane operators will remove the transportation cover and use fuel lines and several fluid ground support equipment panels to load the various gases and fluids into the crew and service modules.
After Orion is fueled and engineers perform final checks in the MPPF, they will move the spacecraft to the Launch Abort System Facility, where EGS will install the Launch Abort System tower and the ogive panels that protect the crew module and LAS and provide its aerodynamic shape.
Orion is a critical component for NASA's deep space exploration plans. During Artemis I, the spacecraft will launch on the most powerful rocket in the world and fly farther than any spacecraft built for humans has ever flown – 280,000 miles from Earth, thousands of miles beyond the Moon over the course of about a three-week mission.