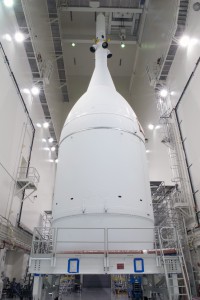 NASA's Orion spacecraft is set to roll out of the Launch Abort System Facility (LASF) at NASA's Kennedy Space Center in Florida to its launch pad at nearby Cape Canaveral Air Force Station's Space Launch Complex 37 on Monday Nov. 10, in preparation for liftoff next month on its first space flight.
At 4:30 p.m. EST, NASA Television will air a news briefing live from the LASF before Orion's move. Participating will be Robert Cabana, Kennedy Space Center director; Ellen Ochoa, Johnson Space Center director; Mark Geyer, Orion Program manager; and Mike Hawes, Lockheed Martin Space Systems Company director of Human Space Flight Programs.
The spacecraft will start its journey to the launch pad at 8 p.m. The rollout will not be carried live on NASA TV, but highlights of the move will air on NASA TV's Video File segments and the agency's website starting Tuesday morning, Nov. 11. The spacecraft is expected to reach Space Launch Complex 37 at about 2 a.m., Tuesday.