Although PACE was formally authorized in 2015, its concept has been on the minds of NASA Earth scientists for over 21 years.
In 2023, that concept is now an assembled spacecraft at NASA's Goddard Space Flight Center in Greenbelt, Maryland. 
This past month, the PACE (Plankton, Aerosol, Cloud, ocean Ecosystem) mission advanced closer to launch, passing a critical review demonstrating final tests for its readiness for observatory integration and testing. PACE will continue preparations for its move to NASA's Kennedy Space Center in Florida, where it is scheduled to launch in January 2024.
"It's an absolutely huge achievement for the team after having conceived the PACE system architecture, completed the design, implemented and built all the hardware and software systems," said Mark Voyton, PACE's Project Manager.
PACE's solar array deploying in the Goddard cleanroom. Video by Denny Henry, NASA
Once in orbit, PACE will view the atmosphere and ocean surface from space. It will help scientists learn more about the relationships between phytoplankton and the surrounding environment by measuring how light reflects off the ocean and through the atmosphere.
Before any NASA mission can launch, however, it must go through a series of immersive reviews, called key decision points, to show it can operate in space. Getting to this moment has been a long time coming for the team. 
Since its inception, PACE has faced many challenges. Last year, for example, one of PACE's polarimeters, HARP2, experienced parts failures during testing, forcing the team to reevaluate several of its design concepts. Budget-wise, the mission also experienced hurdles related to the global Covid-19 pandemic.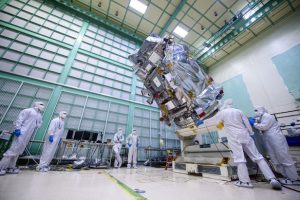 Testing and moving the PACE spacecraft. Image by: Denny Henry, NASA
"It is somewhat difficult to wrap my head around being fewer than 300 days from launch.  All the ideas and concepts from the past decade have been turned into reality! It's been a long strange trip, but one we don't regret pursuing," said PACE lead scientist Jeremy Werdell.
PACE team members have remained busy in their preparations. Late last year, the team integrated all three of its scientific instruments onto the spacecraft, thus forming the PACE observatory. The mission most recently also completed testing the deployment of PACE's solar array.
Next steps for the team will focus on final integration and testing activities at Goddard. This includes vibration and acoustics tests that simulate the launch environment, as well as several months of thermal vacuum tests that simulate the environment of space. 
"Once these activities are complete, the observatory will be trucked to Kennedy for additional testing and integration onto the launch vehicle," Werdell said. 
Header image caption: PACE tech Jean Arnett is cleaning the Aronson table.  The Aronson table is used to tilt the spacecraft over like in the photo below. Image by: Denny Henry, NASA
By Sara Blumberg, NASA Oceans Communications Lead at NASA's Goddard Space Flight Center