With the towering structure of the spacecraft just behind clear plastic curtains, engineers, scientists, and others who worked on the Plankton, Aerosol, Cloud, ocean Ecosystem mission recently had the chance to see the result of their hard work.
"Your dad does amazing stuff for us. He goes and puts out fires all the time," Juli Lander, the PACE deputy project manager, said to a teenager waiting with his family to take a picture in front of the satellite.
The spacecraft and its instruments are the culmination of more than eight years of hard work, late nights, and early mornings, she said, and this was their chance to see the finished product right before it traveled to Florida to prep for launch.
"It's really important for us to let everyone see the great work that their family members have been doing," Lander said. "Everybody who's coming through is very excited, even if they've been here before."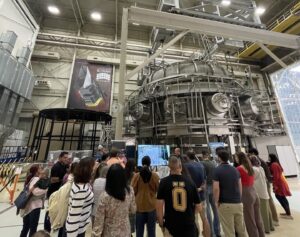 More than 550 people came to the PACE Friends and Family day Oct. 28, 2023, at NASA's Goddard Space Flight Center in Greenbelt, Maryland, where the spacecraft and its Ocean Color Instrument (OCI) were built. They toured the cleanroom where PACE was assembled and tested, including the giant thermal vacuum chamber where it was subjected to the temperature and pressure extremes of space.
They heard from scientists about what insights the satellite will provide about the ocean, atmosphere, and climate, and got to peer through a microscope to see some of the tiny phytoplankton that PACE will study from space.
"We're showing off the science that we're doing with PACE," said Carina Poulin, a scientist and outreach specialist who was helping with hands-on activities during the event. There were puzzles of colorful ocean waters, a PACE-themed card matching game, cultures of green and yellow and pink phytoplankton and more.
The visitors were asking lots of great questions, Poulin said. "They all know someone who works with PACE, so they're excited."
Sabrina Sharmin, who started with the PACE team almost seven years ago and is now a systems engineer with OCI, introduced her enthusiastic guests to coworkers, and pointed out highlights of the cleanroom facility.
"This remarkable spacecraft is a result of countless hours of collaborative effort by the entire team, and I am so proud of all of us," Sharmin said. "It's a momentous occasion, being able to showcase the project to friends and family.
Header image caption: PACE engineer Sabrina Sharmin, in center in brown shirt, brought friends and family to see the spacecraft at NASA's Goddard Space Flight Center in Greenbelt, Maryland. "The anticipation and excitement within our team for launch is unparalleled," she said. Image Credit: NASA/Kate Ramsayer
Kate Ramsayer, Strategic Communications Lead for Earth Science Missions at NASA's Goddard Space Flight Center