Kirk Knobelspiesse is an atmospheric scientist and the project science team polarimeter lead for PACE at NASA's Goddard Space Flight Center in Greenbelt, Maryland. He is also the polarimeter instrument scientist for the Atmosphere Observing System (AOS) constellation.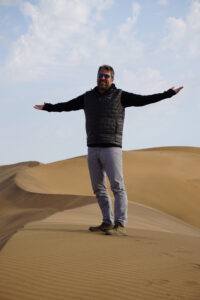 What is your favorite atmospheric or ocean related book or movie?
There was a series on Netflix called "Connected" that had an episode called "Dust." The general idea is that everything in the world is connected, so it started with dust that was generated in the Sahara Desert, specifically the Bodélé Depression. And that dust – which is really from a dry lakebed – gets lofted into the atmosphere and goes out over the oceans, and in the process interacts with clouds and potentially fertilizes the ocean. That dust makes it all the way to the Amazon basin where it may also be an important source of nutrients.
What is your background?
I am a photographer who got really into imaging of all kinds, which led me to remote sensing. I ended up doing work on remote sensing of Earth from space and worked on SeaWiFs, which was an early ocean color mission. I decided I need to go back to grad school and get a more quantitative education, so I got an applied math degree at Columbia University.
What are you most looking forward to during launch?
Earlier in my career I worked on a satellite that had a launch failure (Glory in 2011). So, during launch, I am going to shut myself in a closet and not learn any news until somebody tells me it's all over. Because it makes me so nervous. A lot of people want to go and see the launch and that kind of thing. Not me, I'm going to stay away. Somebody will tell me when it's all over.
What are you most looking forward to post-launch?
I have a list of all the Science and Nature papers we're hoping to write with PACE data. It's ambitious, a little bit. But there are new types of observations that we will be making, that no other satellite will have done so far, at least not at a global scale. One aspect I'm interested in is just exploring the data, looking for basic things that will be useful for our understanding of aerosols and clouds and the climate in general.
I have some pet projects that I've always been interested in, for example a specific situation when aerosols are lofted above clouds. Aerosols are generally something that cools the climate because they reflect light. But if you have, say, a dark smoke aerosol on top of the cloud, it actually warms the climate, because it absorbs some of the energy that would have otherwise been reflected into space. So that's something we'll be able to do with PACE that we don't really have great observations of now.
What is your favorite color and why?
I have a 10-year-old daughter, and favorite colors are very important to her and her friends. They're always asking me what my favorite color is, and I say I can never answer them because how can you like one color without liking all the others?
Do you have a favorite type of cloud or weird atmospheric phenomena?
There's also an optical phenomenon called glory. If you're floating above a cloud and the Sun is behind, you look down at your shadow and you will see your shadow with a glory around it, which is like a circular rainbow around yourself. That's one of my favorite optical phenomena.
What's a fun fact about yourself? Something that a lot of people might not know about you?
I've been to latitude zero, longitude zero, the point in the South Atlantic Ocean where the equator and prime meridian intersect. It was part of the ORACLES field campaign. There's nothing special there. It's just ocean – and I don't mean to offend my oceanographer friends by saying it's nothing special – but there was no pillar of fire or something like that.
What advice would you give to aspiring scientists looking to get where you are today?
Don't pigeonhole yourself into one discipline or one topic of study. Not just computer science or physics or oceanography. They're human constructs, sociological constructs, and they don't have anything to do with nature, other than how we have organized ourselves. A lot of where I've found interesting and productive things to do have been at the boundary between disciplines, or learning from one discipline and applying that approach to another discipline. So, don't tell yourself, "I can't do something because I'm not trained to do that." You can learn and you can train yourself, and don't be afraid to go out on a limb and do something you don't really know how to do.
What is one catch-all statement describing the importance of PACE?
We will be making use of things that people cannot see – the nature of light – to understand things that we can't otherwise observe.
Header image caption: Kirk Knobelspiesse hiking at Rachel Carson Conservation Park in Brookeville, Md. Image Credit: Barbara Balestra 
By Erica McNamee, Science Writer at NASA's Goddard Space Flight Center