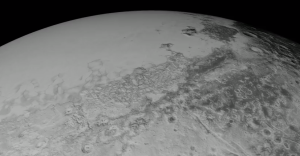 I'm Stuart Robbins, a research scientist at the Southwest Research Institute in Boulder, Colorado. NASA's New Horizons spacecraft made hundreds of individual observations during its flyby of the Pluto system in mid-July. The spacecraft is now sending back lots of image and composition data; over the past two weeks, New Horizons has returned to Earth dozens of images at up to 400 meters per pixel (m/px) of the flyby hemisphere, and this has given scientists and the public an unprecedented view of this mysterious world.
I primarily use these images to map craters across the surfaces of Pluto and its largest moon, Charon, to understand the population of impactors from the Kuiper Belt striking Pluto and Charon. While this is my research focus, another interest of mine is figuring out how to make visualizations that convey some of the sheer beauty and power of the features New Horizons is revealing. With that in mind, I've created a new animation/flyover of Pluto using images returned this month by New Horizons.
Since creating the Pluto flyby movie released Aug. 28, I have used the latest images to produce an animation that shows what it might be like to take an aerial tour through Pluto's thin atmosphere and soar above the surface that New Horizons explored.
https://www.youtube.com/watch?v=http://youtu.be/Wgl9jJUzITg[[/embedyt]
The latest images (as of Sept. 11, 2015) downloaded from NASA's New Horizons spacecraft were stitched together and rendered on a sphere to make this flyover. This animation, made with the LORRI (Long Range Reconnaissance Imager) images, begins with a low-altitude look at the informally named Norgay Montes, flies northward over the boundary between informally named Sputnik Planum and Cthulhu Regio, turns, and drifts slowly east. During the animation, the altitude of the observer rises until it is about 10 times higher to show about 80% of the hemisphere New Horizons flew closest to on July 14, 2015. Credit: NASA/JHUAPL/SwRI, Stuart Robbins
---
The mosaic used in this animation was carefully constructed by New Horizons science team members with some of the latest images from the spacecraft to provide an incredibly accurate portrayal of Pluto's surface. The mosaic starts with images of the "heart" of Pluto – informally named Tombaugh Regio – and the immediate surrounding area that are up to 400 m/px. The mosaic then includes other images of the hemisphere New Horizons flew over that are up to 800 m/px and were released last week. The rest of the mosaic that's shown uses images at up to 2.1 km/px.
Our tour starts low over the informally named Norgay Montes at a height of about 120 miles (200 kilometers). These jagged mountains rise almost 2 miles (3 kilometers) from the surrounding surface. We head north over Sputnik Planum (bright area to the left) and Cthulhu Regio (dark area to the right). While Sputnik Planum is smooth at this pixel scale, it's in marked contrast to Cthulhu Regio which has many large impact craters that indicate the Regio is much older. The differences in brightness are some of the largest natural brightness variations of any object in the solar system.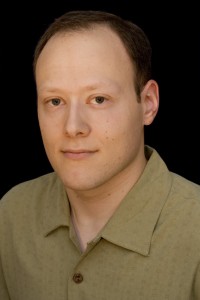 Our view steadily rises to a height of about 150 miles (240 kilometers) and turns to look east. From this point, we drift slowly to the east, with Pluto's north pole to the left, Tombaugh Regio filling much of the middle of the view, and older, more cratered areas standing out in marked contrast to the younger glaciers of the "heart's" left lobe, Sputnik Planum. As we continue to fly, our flight path rises to more than 1,500 miles (2,500 kilometers) with the final view of most of the disk that New Horizons saw on July 14.
The concept of this animation arose from a desire to showcase the most recent imagery received from the spacecraft and the huge variety of terrain types that we see on Pluto. I can hardly wait until we get even better imagery – up to seven times better pixel scale – that's still to come of select areas of the surface and to see what new surprises Pluto has in store.