Hi everyone! We're here at Michoud Assembly Facility waiting to sail with ET-134 to the Kennedy Space Center. Thought I'd share with you a little history about how NASA developed the logistics system to move and support all this heavy, outsized spacecraft hardware.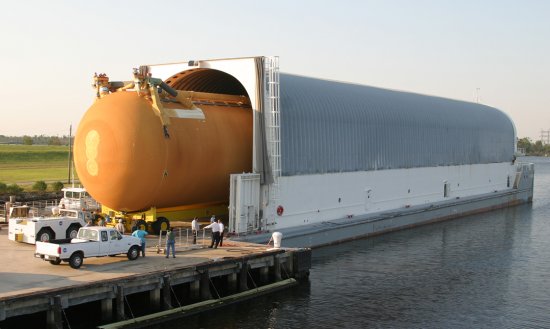 ET-134 moves inside the Pegasus covered barge at NASA's Michoud Assembly
Facility. Credit: Lockheed Martin
When the space program kicked into high gear in the early 1960s the equipment necessary to move the very large components of spacecraft did not exist. In fact, the lack of necessary equipment almost became a limiting factor when preparing spacecraft designs and considering how to move them to launch sites, the primary location being Kennedy Space Center, Fla.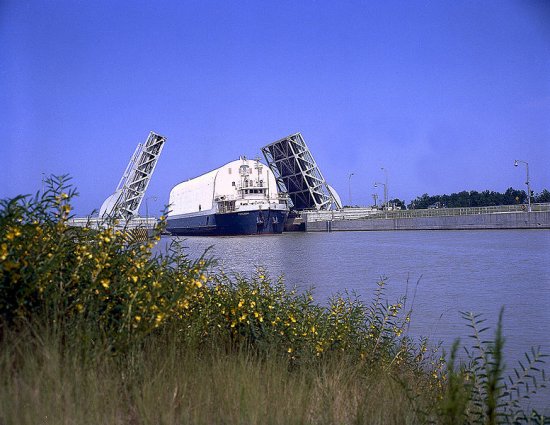 NASA used barges for transporting full-sized stages for the Saturn I, Saturn IB,
and Saturn V vehicles between the Marshall Space Flight Center; the  Michoud Assembly
Facility; the Mississippi Test Facility, now Stennis Space Center; and the Kennedy
Space Center. Credit: NASA
An agency-level logistics office was created at NASA Headquarters in Washington to orchestrate and coordinate a complex set of requirements based on a new and developing program, the Saturn/Apollo Program, and very geographically dispersed set of players, including various NASA centers, test sites, launch sites, suppliers, contractors, and manufacturers; an amazing challenge.
Spacecraft could be built, but now they had to be moved. In the early 1960s Marshall Space Flight Center developed its own logistics management office and began developing plans for a "fleet" of specialized transporters to move the "right stuff."
Eventually, with assistance and vessels from the U.S. Navy, NASA developed its own ocean-going fleet of seven barges capable of transporting most of the components of the Saturn/Apollo program from home bases to Kennedy Space Center for launch operations.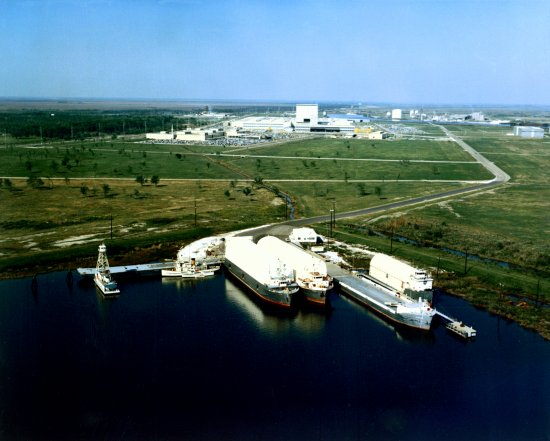 Aerial view of NASA Dock at Michoud Assembly Facility with four barges, left to right,
Paleamon, Promise, Poseidon and Orion. The barges ferried Saturn IB and
Saturn V stages between the Marshall Space Center; the Michoud Assembly
Facility; the Mississippi Test Facility, now Stennis Space Center; and the
Kennedy Space Center. Credit: NASA
A smaller fleet of two oversize and heavily modified aircraft known as the Super Guppy and the Pregnant Guppy were procured for movement by air of Saturn F-1 engines, lunar modules and S-IVB stages.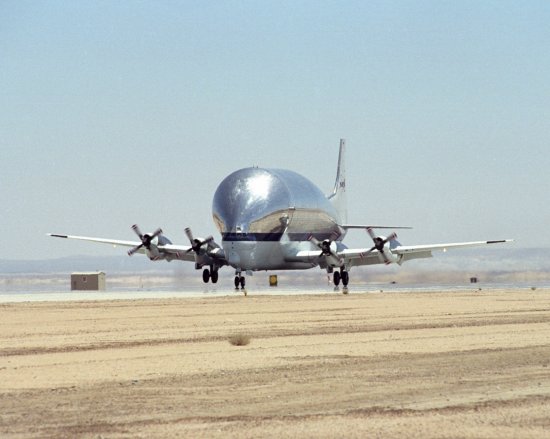 NASA's B377SGT Super Guppy Turbine cargo aircraft touches down at Edwards
Air Force Base, Calif., June 11, 2000, to deliver the latest version of the X-38 flight
test vehicle to NASA's Dryden Flight Research Center. Credit: NASA
Also, NASA made use of the railroads for moving Saturn propellants and even U.S. Army CH-47 helicopters to move large components from long distances for testing at Marshall.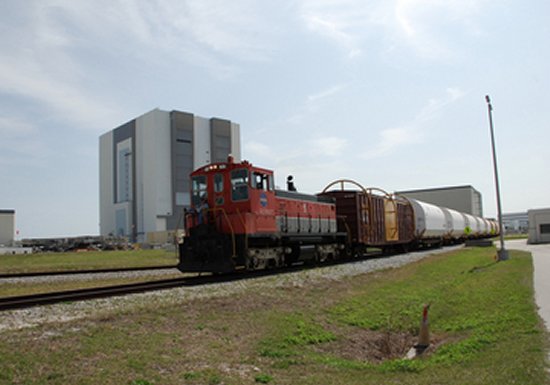 The NASA Railroad train moves along the track through NASA Kennedy Space
Center's Launch Complex 39 area. Behind the locomotive car is the Vehicle Assembly
Building. The train is hauling solid rocket booster segments from the STS-122
mission. After a mission, the spent boosters are recovered, cleaned, disassembled,
refurbished and reused. After hydrolasing the interior of each segment,
they are placed on flatbed trucks and individual booster segments are transferred
to a railhead located at the railroad yard. Credit: NASA

The Space Shuttle Program inherited significant experience and a well-oiled logistics machine from the Saturn Program. Shuttle components are moved by a wide variety of outsized transporters just as in the days of Saturn/Apollo. 
Today, components that make up the solid rocket motors (segments and aft exit cones) are transported cross-country via rail beginning in Utah where they are manufactured. With the help of multiple railroad companies, these components typically spend less than two weeks riding over the rail before arriving at the Kennedy Space Center. Once the components are offloaded, assembled, and ultimately flown in space, they are recovered, disassembled, inspected, and ultimately the segments are transported back to Utah on the same rail that brought them to Kennedy. At this stage in the process the hardware is refurbished and made ready for future flight opportunities.  Solid rocket booster components (forward assemblies, aft skirts) are manufactured at the Assembly and Refurbishment Facility at KSC and transported via ground support equipment over the Kennedy road system to the respective Kennedy facilities where these components are integrated with the solid rocket motor segments. Solid rocket booster hardware and solid rocket motor hardware, when integrated together, make up the space shuttle reusable solid rocket booster. Essentially, NASA is a railroad man as well.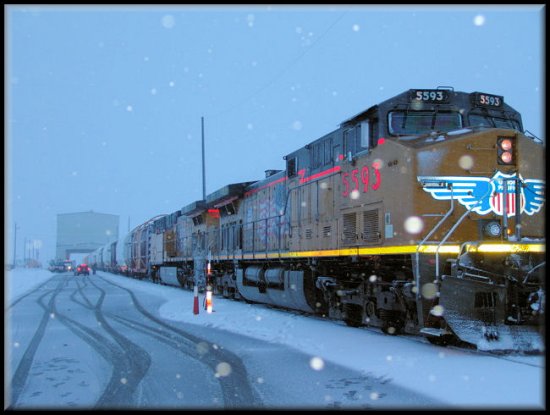 Space shuttle solid rocket motor segments are transported cross-country via rail from
Utah, where they are manufactured, to the Kennedy Space Center, Fla. Credit: NASA
External tanks such as ET-134, as you know already, move by barge and towing ship from New Orleans to Kennedy Space Center over water and space shuttle main engines move by truck. Some NASA equipment, such as specialized cargo or payloads for the International Space Station are moved by Super Guppy, stationed at Ellington Field in Houston, Texas.   
The space shuttle orbiter flies everywhere it goes, except for short distances over ground at Kennedy. If the orbiter has to land away from Kennedy due to weather, such as at Edwards Air Force Base, Calif., a special Boeing 747 pulls up and flies the orbiter back to Kennedy "piggy-back" style in just a few days.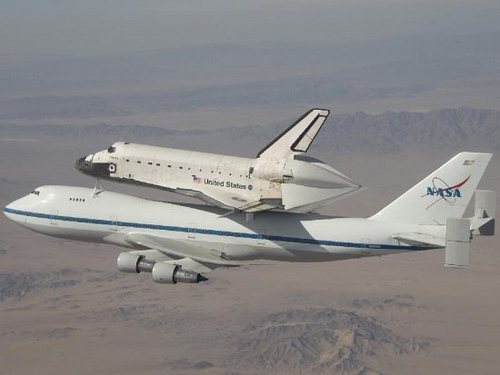 Southern California's high desert provides the backdrop as one of NASA's two
modified 747 Shuttle Carrier Aircraft ferries Space Shuttle Atlantis back to the
Kennedy Space Center after departing NASA's Dryden Flight Research Center
at Edwards Air Force Base. Credit: NASA/J. Ross
Future space program hardware will likely make use of this same or similar means of transportation for movement from point of origin to the Kennedy Space Center for launch operations. 
Liberty Star's mission to tow ET-134 to Kennedy is essentially part of a bigger NASA logistics operation.
It has been said that logistics is everything. It may be. You simply have to have the "right stuff" at the right place at the right time…to make a difference.