The Pegasus crew rallied today on the barge for inspections and machinery checkouts; reporting all is well; Pegasus and ET-134 are in great shape and ready to sail. Crew members Lead Technician Rick Gager, Pegasus Engineer Dave Harris, Able Bodied Seaman Skip Conway, and Ordinary Seaman Jim Harrington made inspections and checks and checked on the weather forecast.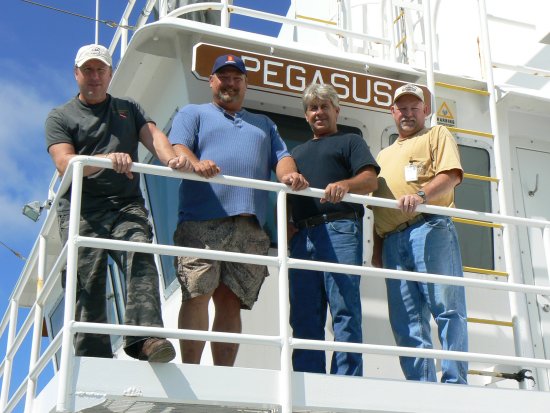 The crew of Pegasus gathers on the bridge on Friday afternoon under clear blue skies
but intensifying winds. Pegasus is ready to get under way; waiting only for lessening winds.
The Pegasus crew from left to right — Engineer Dave Harris of Toledo, Ohio; Ordinary
Seaman Jim Harrington of Scotts Hill, Tenn.; Able Bodied Seaman Skip Conway of
New York, NY; and Lead Crewman Rick Gager of Newburgh, NY. Credit: NASA
During the night a the cold front passed thru the New Orleans area as forecast,  bringing rain and winds, some gusting to 30 knots near Michoud Assembly Facility.  Under bright , beautiful and clearing skies the winds have intensified as predicted. The current forecast calls for unrelenting winds through Saturday into Sunday afternoon. The first best opportunity to get underway via the tug boats is Sunday evening and the maritime operations team is eyeing the Sunday evening window very closely. For now, winds prohibiting departure are intensifying.
 
On a more positive note the crew and visitors assembled in the Pegasus' galley for a meal of homemade split pea soup, piping hot, fit for a sailor, thickened with nice beefy chunks of ham, carrots and onions and topped off with multigrain muffins; best ever eaten on the face of the Earth by any sailors at sea or in port. Aarg! Indeed!