Let's meet two of the members. We'll meet other crewmembers in the coming days.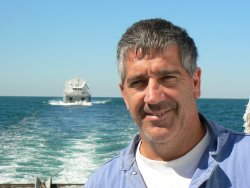 Dan Dugan, Assistant Engineer, Assistant Port Engineer
Let's talk with one of the Liberty Star's engineers, Assistant Engineer Dan Dugan, 44, of Valley Stream, N.Y.  Dan is serving as relief engineer on board Liberty Star for this trip. He is an engineering graduate of the United States Merchant Marine Academy in Kings Point, N.Y.  Dan also holds a Masters Degree in Business Administration from Webster University.
Dan has some 22 years service in the marine industry sailing onboard numerous types of vessels, including tankers for Vulcan Carriers; the MV Stuyvesant, a dredging vessel; casino boats; and the USNS Range Sentinel based at Port Canaveral, Fla.
Working in Liberty Star's rather warm engine room can be pretty demanding. He is responsible for maintenance and operation of all the ship's main propulsion, electrical and auxiliary systems.
What does he like most about serving on Liberty Star? The open sea; being part of the space program and its many different missions such as external tank tows, and booster recovery operations; and support for U.S. Navy and NOAA research missions.
Seemingly, every member of the ship likes outdoor activities in their off-time, and Dan is no exception. When off-duty, he relaxes with his family, knocks out the much loved "honey do lists," coaches wrestling, plays golf and runs. He currently lives in Merritt Island, Fla.
John Jacobs, Able Bodied Seaman
Able Seaman John Jacobs (Jake), 40, one of the first members of the crew I met, has his home close by the Kennedy Space Center, in Cocoa Beach, Fla.  He is a graduate of North Carolina State University. His major was writing and editing and his minor was physical science. He also studied at the Chapman School of Seamanship, Marine Surveyor Curriculum. He is a veteran of 17 years in the marine industry and has worked on various types of vessels.
An Able Seaman is an unlicensed member of the deck department of a merchant ship. John may find himself working as a watch stander, a day worker or a combination of those roles.
At sea, as watch stander his duties may include standing watch as helmsman and lookout. The helmsman is required to maintain a steady course, properly execute all rudder orders and communicate using navigational terms relating to heading and steering. A watch stander may be called upon to stand security-related watches, such as a gangway watch or anchor watch while the ship is not underway.
His specific duties on Liberty Star include general maintenance; navigation; safety and security watches; small boat operator; emergency preparedness; and diver.
When not working on Liberty Star or not at sea, John likes hobbies that take him back to sea, such as sailing and surfing, but he also enjoys running and spending time with family.
He's been serving on board Liberty Star since 2008.