10:00 a.m. Eastern Time, Oct. 23
On Board Liberty Star
Liberty Star, Pegasus and ET-134 are well north of Miami, but moving north much slower than hoped. A much-hoped for pick up from the Gulf Stream has not occurred, apparently a very unusual occurrence for these trips north along the Florida coast.
Sail along with Liberty Star at sea! Windows, streaming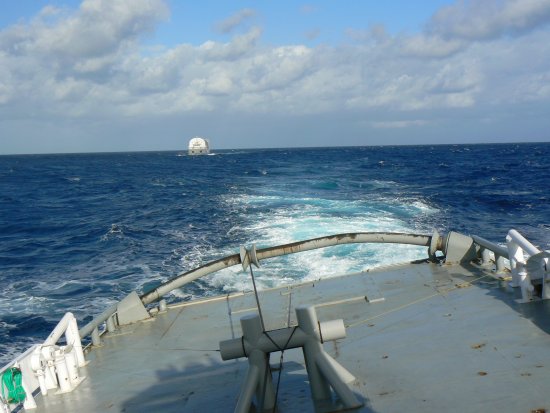 Scenes from a day at sea: looking at Pegasus from the weatherdeck of Liberty Star.
Credit: NASA  View all blog images in this Flickr gallery
 A new arrival time at Port Canaveral has been set for Saturday morning, Oct. 24,  7 a.m. Eastern Time. Liberty plans to sail to the eastern edge of the Port Canaveral channel, where it will rendezvous with two tug boats.The tugs will take up the tow/push of Pegasus for the final leg of the trip into and then north along the Banana River and channel to the dock at the turn basin in front of the Vehicle Assembly Building at Kennedy Space Center.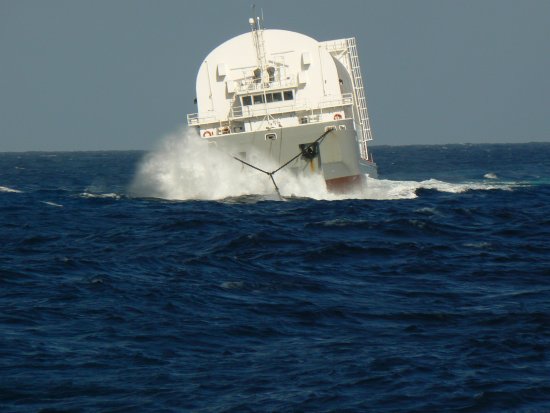 Scenes from a day at sea: Pegasus navigates swells. Credit: NASA
Unfortunately, the delay in return to home port will mean several members of the dedicated, hard-working crew will not have the opportunity to go home over the weekend before sailing Monday for recovery operations associated with the Ares 1-X test flight scheduled for Tuesday, Oct. 27. A wide variety of equipment, including Doppler radar and booster recovery gear, absent from Liberty during external tank towing operations, will have to be returned to the ship for installation.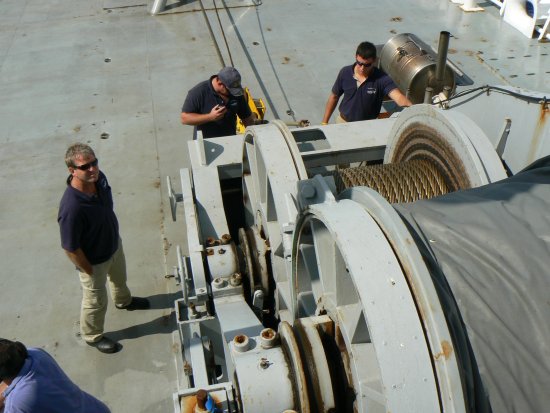 Scenes from a day at sea: Libert Star's crew pays out tow line. Credit: NASA
At this point in the trip Liberty, which sailed from home port with 40,000 gallons of diesel fuel, is down to about 13,000 gallons.  Engineer Trish Hershock has already placed an order to replenish the ship in readiness to sail Monday. Cook Dragan Jorkovic has already set his plans for replenishing the crew.
Newly promoted Second Mate Allan (Big Al) Gravina has just supervised on deck shortening the tow of Pegasus from 1,800 feet to about 500 feet. A shortened towing cable reduces the depth of the cable between the two vessels as Liberty moves into more shallow waters at slowed speeds, limiting the possibility of the tow snagging on unreported, underwater obstacles. The way the tow cable rides between the vessels, like a heavy kink of chains between two fence posts, is referred to as the catenary from the Latin word catena.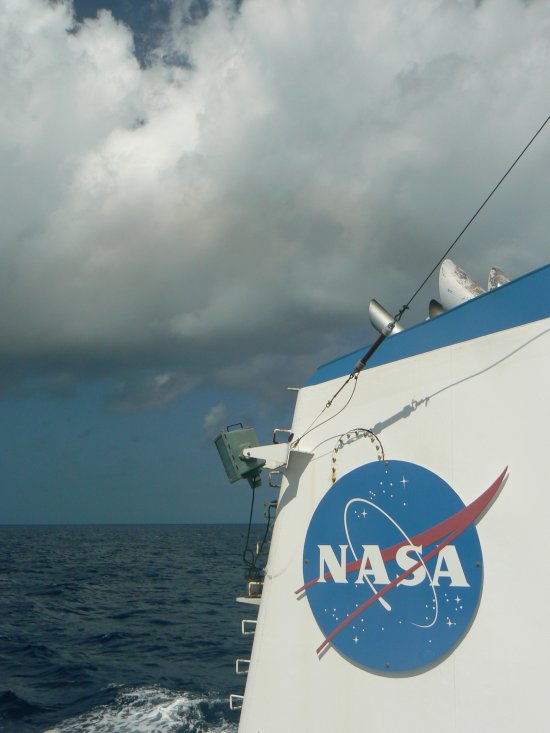 Scenes from a day at sea: Liberty Star and ocean skies. Credit: NASA
Sustainment of the crew continues at a heady pace. Cook Dragan providing tasty, wholesome, and comfortable field rations that every worried mother would appreciate, including more perfectly grilled New York strip steaks; mixed, steamed vegetables; homemade fish soup; crisp bacon and sausage; eggs Benedict; perfectly textured mashed potatoes; savory chunks of roasted pork smothered in piping hot gravy; mixed green salads with all the fixings and of course Balsamic vinaigrette; mixed fruit plates covered in strawberries, raspberries, cantaloupe, kiwi and pineapple; choice of three kinds of cheese cake; chocolate ice cream and, oh well — chocolate mousse covered in whip cream. Aarg!  Aarg! And Aarg!

Scenes from a day at sea: mornings clouds over the horizon. Credit: NASA
The bridge has just sighted St. Lucie Inlet! Liberty Star, Pegasus and ET-134 are bearing north for homeport.
The watch reports — all is well.