8:00 a.m. Eastern, Oct. 24
Liberty Star Transfers Pegasus and ET-134 to Tug Boats Lou Anne Guidry and WP Scott in Port Canaveral
Pegasus is now under way in the calm waters of Port Canaveral channel enroute to the Banana River and eventually, the turn basin at the Kennedy Space Center near the Vehicle Assembly Building. Television producer Mick Speer and public affairs blogger Steve Roy negotiated, with excellent help from the crew on the tug boat WP Scott, the transfer to Pegasus without incident and without getting wet. The transit from Port Canaveral to the Vehicle Assembly Building will take approximately four hours.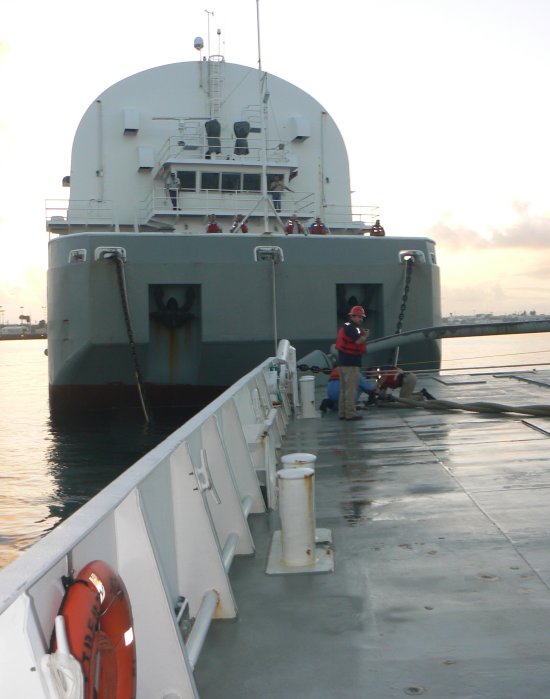 In the Port Canaveral channel crews of Pegasus and Liberty Star complete the
break of the tow in preparation for tug boats Lou Anne Guidry and WP Scott to
move into position and begin the final leg of the trip to Kennedy Space Center.
Credit: NASA
As planned, after dropping the tow to the tugs, Liberty Star sailed off ahead of Pegasus, eager to prepare for the next mission.
The weather is beautiful this morning in the Cocoa Beach area as we progress thru the Port Canaveral locks. ET-134 looks sharp and ready to unload, perhaps even chomping at the bit.
The watch reports…all is well.