Let's meet more of the crew that keeps Liberty Star running smoothly.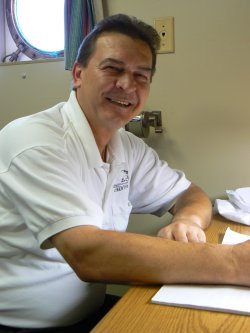 Dragan Jurkovic, Cook
 
Cook Dragan Jurkovic, 47, tells me he is a native of Croatia, but currently calls Cocoa, Fla., his home. He has been onboard Liberty Star for two years and has served on a variety of cruise ships for seven years.
He holds a four year culinary degree from Culinary School Osijek in Croatia.
How does he like his duties on Liberty Star? "The part of the job that I like is cooking and preparing fine dining meals, as well as creating new meals from different countries. Also, I love going out to sea to work on the solid rocket boosters."
Dragan prepares three meals each day for a crew of up to 24 persons at sea during booster recovery operations, but also works at Hangar AF for solid rocket booster disassembly, helps out on deck and also stands ship watches while in port. He has begun maritime industry related studies from the Maritime Professional Training School in Fort Lauderdale, Fla., in his pursuit of qualification as an AB-Able Bodied Seaman.
When off the ship, Dragan mirrors many of his ship mates' outdoor activities — playing tennis with his daughter, fishing and hunting. Dragan also likes to cook for a big party.
Personal comment by blogger Steve Roy:  I am hardly an expert on Croatia, but what I have seen of the coast from a cruise ship was spectacular; rough hewn mountainsides, beautiful blue green waters, perfect for swimming and snorkeling.  The fortress and harbor at Dubrovnik are equally impressive. In comparison to other countries of the Balkans, Croatia has an extensive coastline.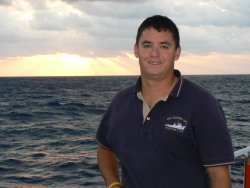 Cody Gordon, Boatswain
I met Cody Gordon (Sonny), 23, a native of Merritt Island, Fla., when I visited Liberty Star on a Saturday morning in August. Cody had the watch that day at the dock at Hangar AF at Cape Canaveral Air Force Station and took time to tour me across and through the ship — teaching me the jargon and many interesting details about the ship and taking me on a deck-by-deck tour.  That's when I learned how much there is to learn about the booster recovery ships; I had just scratched the surface. Thanks again, Cody, for that tour.
Cody actually has served most of his time with United Space Alliance, four-and-a-half years, onboard Freedom Star, so he's filling in on this trip for a Liberty Star regular. 
He is studying business administration at the University of Central Florida in Orlando and taking industry related courses at Maritime Professional Training Institute in Fort Lauderdale, Fla., ultimately to test for his 1,600 ton Mate's license. He already holds an Operator of Uninspected Passenger Vessels, a term used describe a charter boat captain's license.
Before joining the NASA fleet Cody worked four years in the private marine industry on various sport fishing vessels. In case you added up his experience, you should have concluded that Cody is 23 years old and has worked almost nine of those years in maritime jobs. His current duties include supervision of the deck crew with regards to maintenance and repair of the ship's exterior and interior and deck machinery, in addition to standing two four-hour navigational watches as a lookout while the vessel is under way.
When he's not at work, Cody enjoys working on his house, fishing, diving, and spending time with his girlfriend.
What does he like about is work? Goes to sea because he enjoys the constant change of scenery the ocean offers. Cody's father worked for USA in the space program for 25 years, and he takes a great deal of interest and pride in the American space program.