The Straits of Florida, Florida Straits, or Florida Strait is a 100-mile strait located south-southeast of Florida, and is generally accepted to be the area between the Gulf of Mexico and the Atlantic Ocean, and between the Florida Keys and Cuba. The strait carries the Florida Current, the beginning of the Gulf Stream, from the Gulf of Mexico into the Atlantic. (By the way, a strait is a thin, navigable channel of water that joins two larger navigable bodies of water.)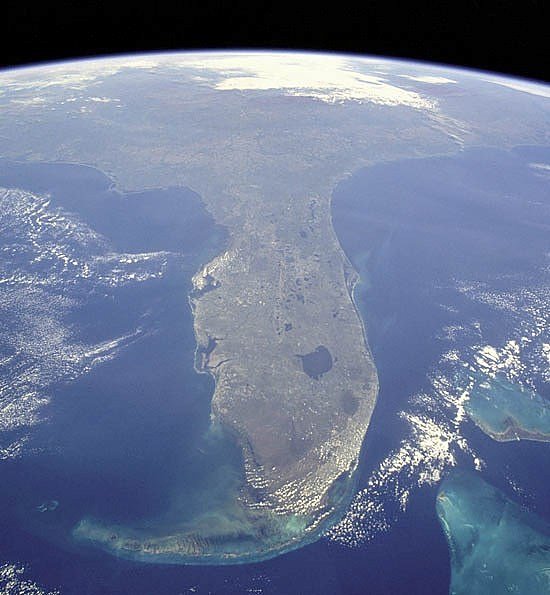 Florida, seen during space shuttle mission STS-95 on Oct. 31, 1998. Credit: NASA
The history of exploration of the Americas is strewn everywhere here as well. Off to the south some 70 miles away is the Island of Cuba; a major point of entry to the Western Hemisphere and base of operations for early Spanish explorers and ships returning across the Atlantic to Spain. To our north are the Florida Keys.
The Spanish explorer Ponce de Leon first recorded sailing through the straits in 1513. Many more Spanish ships came later.
In 1622, twenty-eight heavily laden ships left Havana for Spain carrying the wealth and prestige of the Spanish empire in the Americas. Besides heavy cargos of silver, gold and emeralds from Spain's American possessions, the ships carried thousands of sailors, soldiers, passengers, and all the necessary materials and provisions for a long voyage. The fleet was overtaken by a hurricane as it entered the Florida Straits. By the next morning eight Spanish vessels lay smashed on the ocean floor, scattered from the Marquesas Keys to the Dry Tortugas. Among these sunken ships were the Santa Margarita, the Nuestra Senora del Rosario and the Nuestra Senora de Atocha.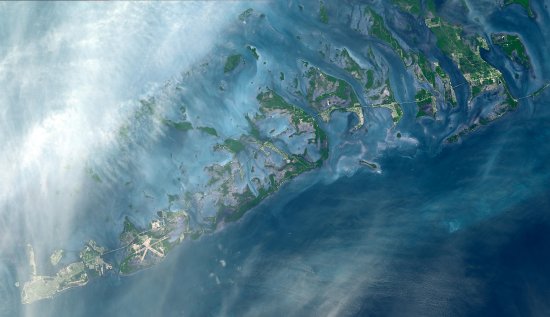 The Florida Keys. Credit: NASA
The most famous Spanish wreck found west of the Florida Keys was the above-mentioned Nuestra Señora de Atocha with a value estimated by some at $300,000,000.
Beginning in the 1500s, virtually every navy in Europe sailed these waters. Spanish, English, Dutch, Portuguese, French and eventually American colors have fluttered over the Straits.  Many ships flying no colors, pirates and privateers, prowled the Straits in the 1600s and 1700s seeking luckless and under-armed victims. During World War II, German U-boats transited the Straits on their way into the Gulf, but they remained only a short time before withdrawing to the much safer and deeper waters of the Atlantic Ocean. 
The Florida Keys contain the few coral reefs in the continental United States, making it a haven for fish and coral. These same reefs are hazards to navigation and thousands of ships have wrecked over the centuries in the Keys and elsewhere in the waters of Florida.