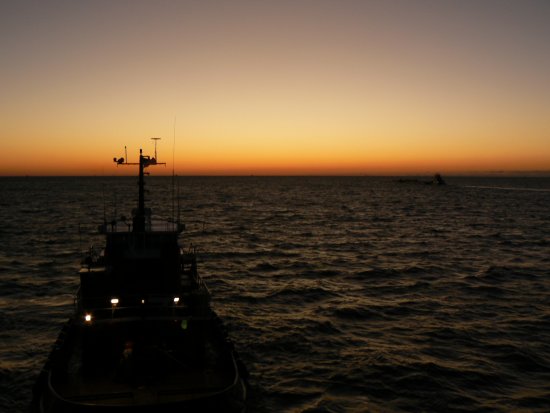 Dawn comes at sea while Pegasus was positioned just south of Gulfport, Miss.
Credit: NASA   View all "Sailing With NASA' blog photos in this Flickr gallery
Pegasus arrived off the Port of Gulfport, Miss., early this morning at about 7 a.m. CDT, but was asked to remain at sea and await passage of a Gulfport-bound freighter, the Bernado Quinnada, flagged in Nassau.  While waiting at sea, Pegasus was passed by no less than the freighter, a Coast Guard cutter,  six shrimp boats and several barges hauling fuel and grain. A very busy crossing here at Gulfport.
Once cleared to enter port, Angelica E and Emmett Eymard fired up their engines and towed Pegasus into port for a fast transfer to the Liberty Star. Upon entering the port proper, Pegasus was turned completely around facing south out of the port. The blogging passengers, Mick Speer and myself, were quickly shifted from Pegasus to a local pilot vessel and then just as quickly were placed on board the Liberty Star. Introductions went fast as the crew bent to the job of hooking up to the bridle of the Pegasus with the tow line, an evolution that was completed in only a few minutes by the obviously veteran and experienced crew.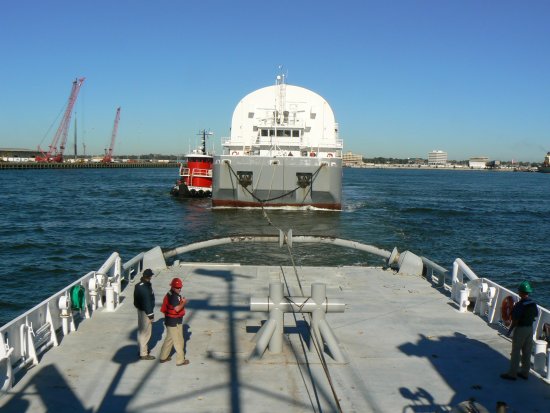 This series of images shows the several steps the crew of Pegasus and Liberty Star
undergo to attached the Pegasus bridle and the towing line of the Liberty Star. The
entire process to complete the hook up was accomplished smoothly and only a very
few minutes. Credit: NASA
Able Bodied Seaman John Jacobs of Cocoa Beach, Fla., right next to Kennedy Space Center, performed the all important task of attaching the Pegasus bridle to the tow line of the Liberty Star. "This particular operation to secure the Pegasus bridle and Liberty Star tow line went like clockwork. It was a normal and well done hookup performed by a very experienced group of seaman," said Jacobs.
Liberty Star is several miles out of Gulfport now, heading south toward the channel between West Ship Island and Cat Island — outbound for the Gulf of Mexico.