As Liberty Star enters the Florida Straits we should note one of the oldest inhabited islands of this area, Key West. First noted for its potentially strategic location by Ponce de Leon in 1513, Key West — or Cayo Hueso, as it was originally known by the Spanish — is situated at the western gate of Florida Straits some 90 miles north of Havana, Cuba. Key West had for several centuries a more or less continuous exploration and commercial relationship with her sister colony in Cuba. Fishing and salt production highlighted some of the early industries.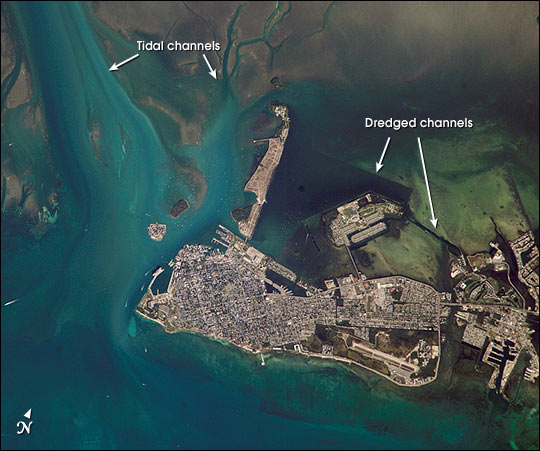 Key West, Fla., seen from the International Space Station in 2002. Credit: NASA
Spanish rule of the area was interrupted by twenty years of English domination, but the end of the American Revolution in 1783 returned Florida to Spain. In 1819 Spain ceded all of Florida to the United States and as a result the population began to grow along with American interest in the Keys strategic military location. 
A major fortification, Fort Zachery Taylor, was built at the extreme western end of Key West just prior to the American Civil War and although Florida seceded from the Union, Fort Taylor was seized by Federal forces almost immediately after hostilities began.  Just east up the coast from Fort Taylor Union engineers built additional fortifications known today as the East and West Towers of Fort Martello. 
Key West played a pivotal role in preventing Confederate blockade runners from operating freely in the Gulf of Mexico throughout the Civil War.
Some 27 sailors who died in the USS Maine explosion in Havana Harbor were buried at the Key West Cemetery.
Both forts have been preserved and are open to the public. In the 1960s Fort Taylor was fully excavated and found to have buried within its confines the largest collection of surviving civil war cannon anywhere in the country.
The U.S. Navy returned to Key West with a large presence during World War II and remains today a major employer in the area with Key West Naval Air Station and other smaller facilities.