ET-134 will play its vital role in the launch of space shuttle mission STS-130 to the International Space Station. The targeted launch date of Feb. 4, 2010 at 6:20 a.m. Eastern  from the Kennedy Space Center is tentative until a final date is selected by the mission manager team in January, a few weeks before the actual launch. ET-134 will power the space shuttle main engines of the space shuttle Endeavour, which will carry a crew of six astronauts:

Commander George Zamka, Pilot Terry Virts
Mission Specialists Bob Behnken, Nicholas Patrick, Kathryn Hire and Steve Robinson
This mission is an important one for the space station and its European partners. Endeavour will deliver Node 3, named Tranquility, and the Cupola, a robotic control station with six windows around its sides and another in the center that provides a 360-degree view around the station. At least three spacewalks are planned during this, the 32nd space shuttle assembly mission to the space station.
Tranquility was built under management of NASA's partners in the European Space Agency and the Italian Space Agency by Thales Alenia Space for the Space Station Program.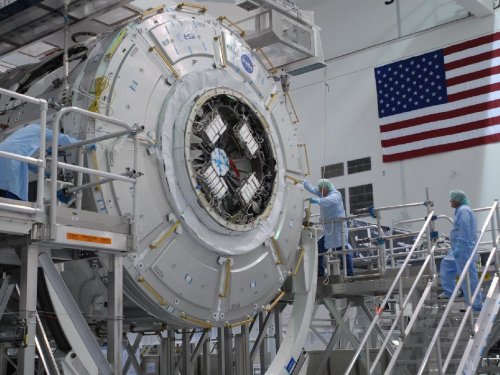 Construction of space station Node 3, named Tranquility. Credit: NASA
The Cupola, a large window module and robotics work station will be attached to the nadir-side (down looking) of Tranquility. The module also includes various critical space station systems, especially life support systems.
The Cupola is an ESA-built observatory module. Once installed, it will provide space station crew members with a direct view of robotic operations and docked spacecraft, as well as an observation point for observing the Earth. Its name derives from Italian cupola, which means "dome."
Designed and built by the Italian contractor Alenia, it is approximately six feet in diameter and three feet tall. It has six side windows and a top window, all of which are equipped with shutters to protect them from damage by micrometeorites and orbital debris. It features a thermal control system, audio, video, as well as the connections needed for installing in it one of the two identical robotic workstations that control the Canadarm2. It will initially be installed on the Unity Module and later be transferred to the Tranquility module of the space station.
The Italian Space Agency also built all three space station nodes; Unity, Harmony and Tranquility; as well as all three multipurpose logistics modules (MPLMs): Leonardo, Raffaello and Donnatello. The MPLMs are used to transport up to 10 tons of cargo to the space station each mission.