It's mid-afternoon and we're onboard the Liberty Star. Our transfer from the Pegasus barge to Liberty Star was accomplished via Gulfport pilot vessel.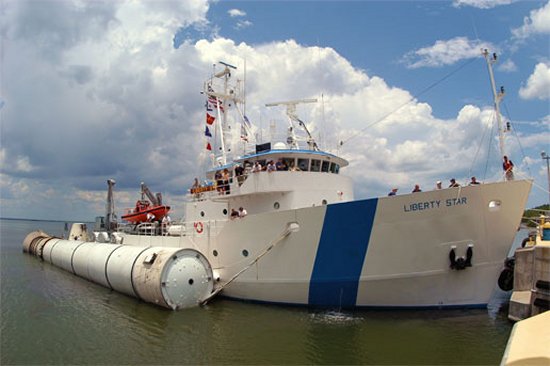 Liberty Star and her sister ship Freedom Star, were built in 1980 and 1981, respectively, by Atlantic Marine Shipyard, Fort George, near Jacksonville, FL, and are owned by NASA and operated for the space program under contract by United Space Alliance of Cape Canaveral, Fla.
The primary mission of Liberty Star and Freedom Star is to recover the reusable solid rocket boosters used to propel the space shuttle to orbit. Liberty Star is commanded by Captain Mike Nicholas of Merritt Island, Fla., a 22 year veteran of work at sea.
In preparation for sailing with Liberty Star I read the entire 23 volumes of "Master and Commander," by the well known sea faring author Patrick O'Brian (just kidding; I actually read the set some years ago). However, I do know that the front of the ship is the bow; the rear of the ship is the stern; the right side is starboard and the left side of a ship is no longer larboard, but port. Liberty Star has no sailing masts, no marines, no gun ports and much to my consternation, no 24 pounders, no grapeshot and no round shot.  But Liberty Star is no sissy and she is packed with mission capability. 
Liberty Star is propelled by two General Motors diesel engines turning two six-foot diameter propellers with controllable pitch which provide excellent response time and maneuverability. She can also be maneuvered by a 425 horsepower White Gill water jet thruster in the stern and a 425 horsepower Schottel bow thruster. These systems are particularly valuable in maneuvering the ship without the use of the main propellers where the ship is based, in Florida's Banana River.The Banana River is home to a large manatee population and USA goes to great lengths to avoid injuring the lumbering, harmless giants. These thrusters are essential during solid rocket booster recovery operations by permitting divers to work near the ship much more safely. 
For communications and navigation, Liberty Star has Kongsberg dynamic position system and joy stick control, X-band and S-band radars, global positioning system, handheld VHF radios and GPS units, digital video and recording systems, voice and data satellite communication capability, VHF automatic direction finding, high frequency single-side band radios, electronic chart plotters, night vision and Sea Area-3 Global Maritime Distress Safety System consoles.
When recovering solid rocket boosters off the Florida coast, Liberty Star carries a crew of about 10, plus 14 additional personnel: Crane operators, technicians, and divers. She has a captain, chief mate, second mate, bosun's mate, cook, chief engineer, assistant engineer, and three Able Bodied seamen. Liberty Star has a phenomenal cruising range of 6,000 miles and a cruising speed of 15 knots, or 17 miles per hour.  She is 176 feet long, 37 feet in the beam (greatest width), and has a draft of 12 feet. She boasts a cruising endurance of about 30 days. Her draft of 12 feet is a little too much to permit her to begin towing the Pegasus barge from Michoud Assembly Facility due to the shallow waters of the Intracoastal Waterway.
All gear on deck, including the crane, is bolt-on, bolt-off. For this trip the aft deck is stripped of virtually all equipment. For booster recovery, she carries a large Enhanced Diver Operated Plug to insert in the floating boosters to permit inflation and towing, an air cooled two stage compressor for dewatering the boosters, conventional and nitrox compressors breathing air for the divers, a four person hyperbaric chamber for diver emergencies and training, four parachute reels each with 8,000 lbs pull, a 1,200 foot air hose for booster dewatering, two Ambar work boats, a 7,500 lb deck crane, booster frustrum recovery equipment, and most recently a doppler, phased array radar for monitoring space shuttle launches.
Liberty Star is normally moored at Hangar AF on the Banana River at Cape Canaveral Air Force Station, Fla. Several dozen manatees inhabit the dock area of the recovery ships, enjoying warm, shallow waters and the recovery ships are very careful to take all precautions necessary to avoid hitting them. The manatees also share their territory with the local and prolific alligator population.  Liberty Star and Freedom Star leave Cape Canaveral Air Force Station about 24-36 hours before the launch of the space shuttle.  Before the space shuttle launch the sister ships arrive in the expected booster splash down area, located about 140 miles northeast of Kennedy Space Center, and prepare for recovery operations.
The two solid rocket boosters provide power for the shuttle's ascent. When the boosters are spent, they are jettisoned (at two minutes, seven seconds after liftoff) and fall to the sea as the shuttle's main engines finish lifting the spacecraft out of the Earth's atmosphere and into orbit. At six minutes and 44 seconds into the flight, the 165,000-pound boosters under three massive 136-foot-diameter parachutes have slowed their descent speed to about 62 miles per hour and they splash down in a predetermined area. Liberty Star or Freedom Star power toward the impact area in the Atlantic Ocean, recover the boosters and tow them back to Hangar AF at Cape Canaveral Air Force Station.
When not called upon to support booster recovery operations or towing the Pegasus barge from Gulfport, Miss., the Liberty Star and Freedom Star may be found supporting research activities of the U.S. Navy or National Oceanic and Atmospheric Administration.  The crews also train to be ready to recover the space shuttle astronauts at sea should that contingency ever arise.
By way of comparison, Liberty Star weighs in, when soaking wet, at about 1,100 tons and is similar in overall size and appearance to a medium class cutter, such as USCGC Reliance of the U.S. Coast Guard, weighing in soaking wet at 1,127 tons. 
More about Liberty Star and her crew to come later…