I have always enjoyed the sea and I have never passed up an opportunity to go to sea that I can remember. In the days before the families of servicemen started traveling by air to unite with fathers and mothers in exotic places like Japan, the Philippines, Guam, Okinawa and Hawaii, military families traveled by sea on converted World War II troop ships. In 1956 when I was eight years old, my mother, brother, sister and I went on board the USNS Gaffey at the Oakland Naval Yard, slipped our mooring and churned across San Francisco Bay. We celebrated one of those really neat moments in the life of a family when we sailed under that most famous of famous American icons, the Golden Gate Bridge.

USNS Gaffey carried military personnel and families from the west coast to bases
throughout the Far East during the 1950s and 1960s.  Gaffey was sunk as a target
ship in 2000. Credit: U.S. Navy 
We were outbound from the west coast for Okinawa and I don't recall the Gaffey stopping anywhere, but my sister says we stopped at Yokohama, Japan. My brother and I turned the troopship into a wonderful playground. During our 14-day voyage we helped exhaust the ship's store of ice cream, courtesy of the sailors and stewards who ran the ice cream station and generally made a nuisance of ourselves exploring the Gaffey's secret passages and upper decks. Surprisingly, Gaffey lasted until the year 2000 when she was sunk as a missile target. Poor Gaffey.
Dad had flown ahead of us to Okinawa as he was an Air Force intelligence officer and was needed way ahead of us. He was at the dock to meet us. It was good to see Dad.  
Two years later we returned to the states on another troopship, the USS Mann, via Tokyo, the Aleutian Islands and Seattle. Another fun voyage, but this trip toned down with tragedy. A baby became seriously ill and a Navy float plane, a PBY, flew out a medical team to care for the infant. Right in front of the passengers of our ship the PBY crashed on landing in the sea and her crew had to be rescued by our ship. Unfortunately, the doctor broke his leg transferring from the crashed aircraft to our ship's launch. Of greater misfortune the baby died and was buried at sea the next day while the entire ship stood silent. The partially floating plane, now a hazard to navigation, was sunk by gunfire that evening.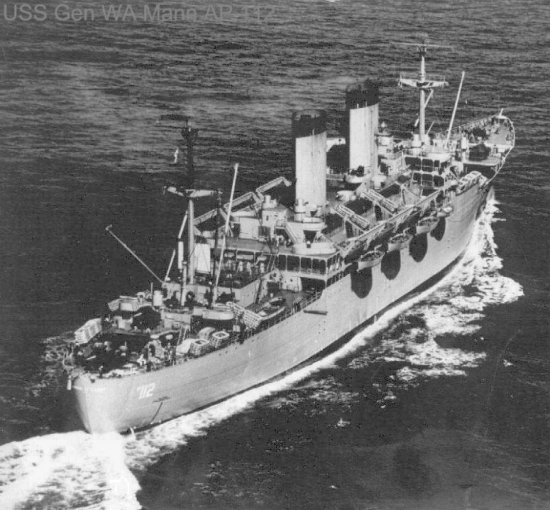 USS Mann. Credit: U.S. Navy
I had the good fortune to sail on two other very short sea voyages while serving in the Army. As a very sleepy and ravenous Ranger student I paddled in a rubber raft with ten other guys down the Yellow River in the panhandle of Florida out to a Navy LCM, Landing Craft Medium ( no amenities), in Pensacola's East Escambia Bay. We loaded our rafts on the LCM and she took us out into the Gulf of Mexico past Santa Rosa Island to drop us off at sea for a short paddle to shore and some fun night training in the swamps of Eglin Air Force Base.  Much later, while serving with the Multinational Force and Observers in the Sinai Peninsula, I had the pleasure of a short trip in the Gulf of Aqaba on an American built, Italian crewed mine sweeper. There were real amenities on this ship…Italian cooking!!
These days I sail on fun ships with lots of amenities and silly names like Fantasy, Splendor, Paradise and Imagination and dream about ships with minimal amenities and great names like Yorktown, Lexington, PT-109, Iowa, Missouri, Intrepid, Bainbridge, Bon Homme Richard, President, Constitution, Congress, Wahoo and especially brave Heermann, and Johnson, oh, and of course, Kon Tiki. 
NASA has a small fleet of its own. I first saw NASA's booster recovery ships in the fall of 1991 while driving through Cape Canaveral Air Force Station and immediately decided I wanted to sail in some capacity with NASA's two solid rocket booster recovery ships. They are beautiful working ships. They have sharp crews and they have many important missions to perform for NASA. They have great names; Liberty Star and Freedom Star.

We're sailing with Liberty Star from Gulfport, Miss. to Kennedy Space Center, Fla.