As Liberty Star enters the home stretch, meet more of the professionals who keep things "ship-shape" at sea.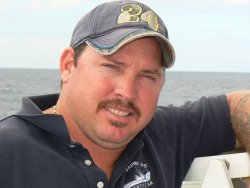 Clinton Small, Boatswain
Today we're talking with one of the Liberty Stars boatswains on this trip. Boatswain Clinton (Koko) Small, 34, is from New Smyrna, Fla. That's just north of the Kennedy Space Center. He's been onboard Liberty Star for nine years.
The rank "boatswain" goes back pretty far in history, having been identified by historians in the old English ships as far back as 1040.  Boatswains have traditionally served in a supervisory and hands-on leadership role, working closely with the deck hands performing hard work. Boatswains have always been a vital part of running a ship.
Clinton's specific responsibilities include supervision of the deck crew with regards to maintenance and repair of ship's exterior, interior and deck machinery. He also stands two four-hour watches as a lookout while vessel is under way. On smaller ships like Liberty Star, boatswains stand the watch, but not on larger ships.
Clinton is a graduate of New Smyrna High School and has studied industry-related courses at the Maritime Professional Training School in Fort Lauderdale. He also is currently studying to sit for his 1,600 ton mate's license. He worked construction before joining United Space Alliance.
Clinton goes to sea because he likes the excitement and the fresh air. When he's not at work, he enjoys going four wheeling, fishing, hunting and hanging out with his girlfriend and dogs. He says the part of the job he likes most is going home at the end of the day. Smart man!

Patricia Hershock, Chief Engineer
One thing about "Chiefs" — they are always important or they wouldn't be called "Chief." Whether it's a Navy Chief Petty Officer or Army Chief Warrant Officer or Chief of Police, they are responsible for making something work properly, not work once in a while, but work every time.
Chief Patricia Hershock (Trish, or Chief), 46, is a native of Stamford, Conn. For those not familiar with New England, that's just across the Long Island Sound from Long Island, N.Y.  She has served with Liberty Star for two years, nine months.
Trish started out with the Navy. She enlisted and trained as engineman in 1985 and was stationed at Naval Station Treasure Island, San Francisco. She also has also onboard the U.S. Navy tug YTB-812, the Accomac, based at Treasure Island, and served on commercial ocean-going tugs and commercial inland river towboats. By the way…that's the industry that keeps many millions of truck miles off our highways each year.
She has completed engineering courses as well as industry related continuing education courses at maritime schools.
As Chief Engineer onboard Liberty Star, she is responsible for the operation, maintenance and repair of all main propulsion and auxiliary machinery. Trish works six- hour rotating shifts with Assistant Engineer Dan Dugan while under way. That's a rough schedule in anyone's book.
When asked what she likes most about her service onboard Liberty Star, she responds that she enjoys the variety of work that comes with the job and the camaraderie of her shipmates.
What does Trish do for relaxation when off the ship? Another outdoors person! She enjoys tinkering on her antique motorcycle, scuba-diving, gardening, and surfing with her husband, Karl.