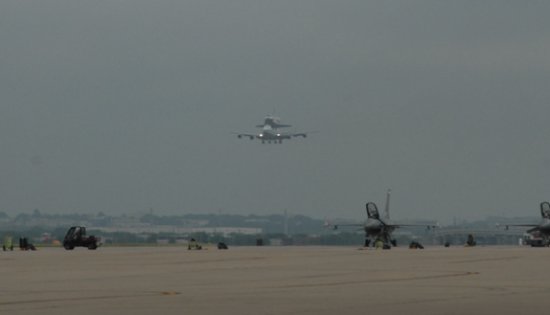 We just landed here at Lackland Air Force Base's Kelly Field. I scrambled off the C-9 and made it out on the runway in time see Atlantis/SCA's second Texas landing. We'll have video soon!
The 37th Training Wing here at Lackland AFB, San Antonio, Texas, is the largest training wing in the Air Force. Kelly Field is the longest continually used runway in the Air Force (since 1917) and population wise is the largest Air Force base in the United States.
Ben, our photographer caught this cool shot of Lackland AFB 2nd Lieutenant, Natassia Cherne taking a moment after the landing.
We'll refuel here, take a minute for lunch and to get one last check of the weather forecasts and then be on our way to Mississippi.
Oh, and I've noticed in the comments several people are asking about why it is that the orbiter can't fly in the rain since it's not a problem if the orbiter gets rained on when it's sitting on the launch pad. The answer is that the rain hits the orbiter's tiles a lot harder when we're flying over 300 mph than it does at the pad. At those speeds the rain would be like a shotgun blast to the tiles. (Have you ever held your hand outside your car window when you're driving through a rainstorm?)