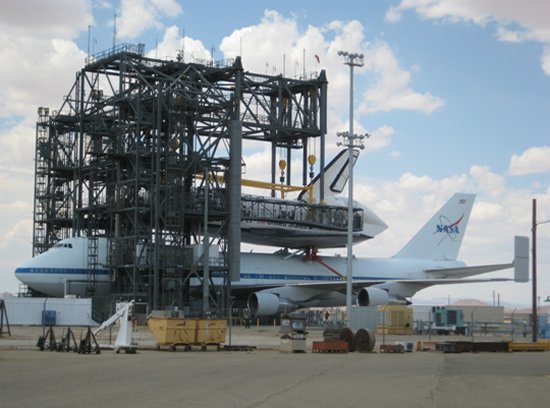 Late last night (or really, early this morning) Atlantis was attached to the 747 in preparation for the Ferry Flight. Everything went pretty smoothly and the team is still working crazy to get everything ready to go.
I found out more about the 747 that is giving Atlantis a lift home. The 747 is officially called the Shuttle Carrier Aircraft or SCA. (We have a thing for acronyms here at NASA.) NASA has 2 of them and they're both here at Dryden.
The SCAs were originally commercial 747s, but NASA made a couple of changes. They are obviously modified to be able to attach the orbiter on their backs with two connecting points near the back of the plane and one near the front. The tails of the planes are also different. They have two additional vertical stabilizers to help with stabilization during the flight.
All the passenger area has been stripped of galleys, carpeting and even some of the ductwork. NASA needed to make them as light as possible since we're adding a shuttle orbiter on top. The planes still weigh more than 300,000 pounds and the drag added by having an orbiter on top adds another 190,000 pounds or more. These planes need to work twice as hard as a normal 747.
If you're interested in the Shuttle Carrier Aircraft, check out this link:
https://www.nasa.gov/centers/dryden/news/FactSheets/FS-013-DFRC.html