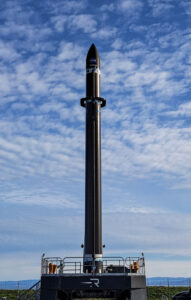 Launch day is here for NASA's TROPICS (Time-Resolved Observations of Precipitation structure and storm Intensity with a Constellation of Smallsats) mission! Atop a Rocket Lab Electron rocket, a pair of small satellites await liftoff from Launch Complex 1 in Māhia, New Zealand, to join a pair of recently deployed TROPICS satellites that launched just over two weeks ago.
This mission, named Coming To A Storm Near You, marks the second of two Rocket Lab TROPICS launches for NASA, following the company's first launch from this very spot at 9 p.m. EDT Sunday, May 7, (1 p.m. Monday, May 8, New Zealand Standard Time). Like the previous launch, today's launch is sending a pair of shoebox-sized satellites, called CubeSats, to low Earth orbit to collect tropical storm data more frequently than other weather satellites. TROPICS will help increase understanding of these deadly storms and improve tropical cyclone forecasts, complementing other NASA and partner satellites, including the Global Precipitation Measurement (GPM) mission and the Suomi National Polar-orbiting Partnership (Suomi NPP).
A 70-minute launch window opens at no earlier than 4 p.m. New Zealand Standard Time (12 a.m. EDT).
Once deployed, the two CubeSats from today's launch will join the TROPICS CubeSats already in orbit in two equally spaced orbital planes, which will distribute them for optimal coverage over the Earth. The orbiting TROPICS constellation of satellites will study the formation and development of tropical cyclones, known as hurricanes in the Atlantic and typhoons in the West Pacific, making observations of temperature, precipitation, water vapor, and cloud ice more often than what is possible with current weather satellites. With the four TROPICS satellites in orbit, they will join the TROPICS Pathfinder satellite, in orbit since its launch in June of 2021.
The short turnaround between launches is predicated on the need to have all four deployed into their operational orbit within a 60-day period. Since the TROPICS satellites will cover the part of the Earth where tropical cyclones form, the distribution of the satellites means that one should pass over any spot in an area stretching from the Mid-Atlantic region of the United States to the southern coast of Australia about once an hour. Working in concert to improve observations of the powerful storms, TROPICS will provide data on temperature, precipitation, water vapor, and clouds by measuring microwave frequencies, providing insight into storm formation and intensification. This new data, coupled with information collected from other weather satellites, will increase understanding of tropical cyclones and should improve forecasting models.
Follow launch updates on NASA's Small Satellite Missions blog and stay connected with the mission on social media.
Rocket Lab will provide live coverage beginning approximately 20 minutes before launch. Coverage will air on NASA Television, the NASA app, the agency's website, and Rocket Lab's website. Coverage will begin around 11:40 p.m. EDT on May 24.
Twitter: @NASA_LSP, @NASAEarth,  @NASAGoddard, @NASA, @RocketLab
Facebook: NASA, NASA LSP, RocketLabUSA
Instagram: @NASA, @NASAEarth, @RocketLabUSA